Why are school and work breaks encouraged and mandated by the state, and why do most individuals opt to take their breaks outside? Why do many students enjoy outdoor sports? There have been many studies regarding the importance of access to quality outdoor public spaces, like Drake and Bates Park Spraygrounds in Des Moines, Iowa. Remaining inside all day can be draining to the psyche and provide little stimulation unless the routine is shaken up a bit. Studies show that people who spend more time outside often feel more refreshed due to increased oxygen exposure to the brain. Being outdoors increases concentration and brain stimulation for all. For children specifically, outdoor playground experiences can provide a real-world context and create a sense of community. The newly renovated Drake and Bates Spraygrounds provide the perfect opportunity for children to regain their appreciation and excitement for the outdoors.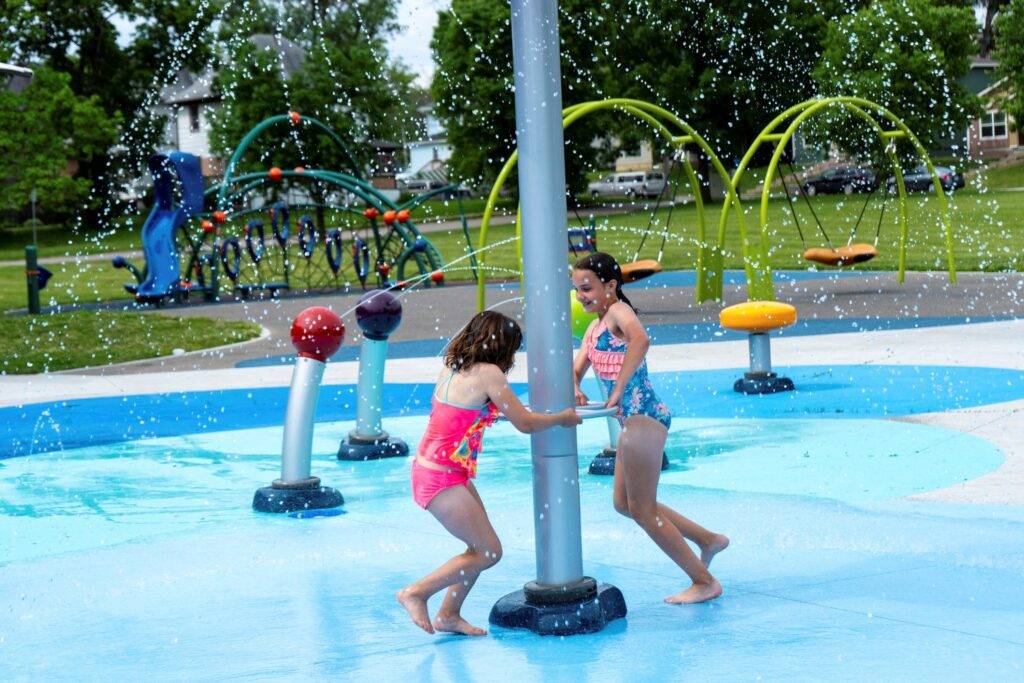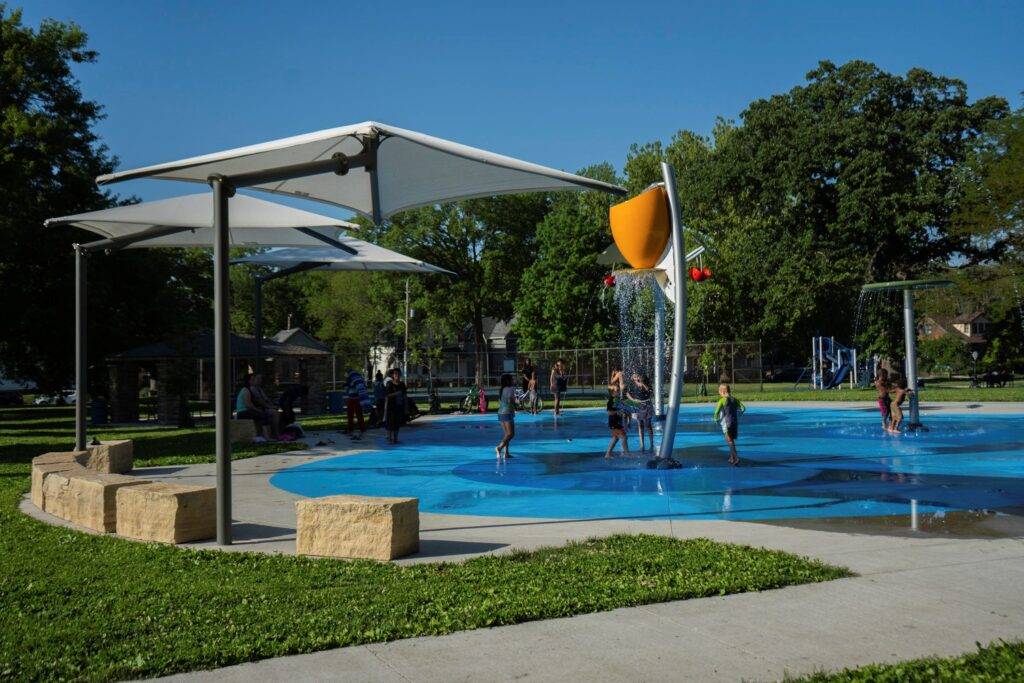 History of the Drake and Bates Park Spraygrounds
Outdoor play areas in the City of Des Moines needed vital updates and upgrades to create safer playgrounds, while minimizing maintenance and staff management in an inclusive play environment. The former parks in the Drake and Bates neighborhoods of Des Moines included deteriorating concrete shallow-water wading pools, which would periodically flood the surrounding area. The play areas required more maintenance and lifeguard management than the city could provide, bringing the need for safer sprayground projects to the forefront. The new Drake and Bates Park Sprayground projects offers improved safety for families and drastically reduced management for city staff.
The city received a monetary donation for the park upgrades to benefit established neighborhoods. Together, the Parks and Recreation Department and the donor created a vision and developed the initial concept through a community engagement process. To realize their vision, they reached out to Bolton & Menk to refine their concept plans and develop quality construction documents to implement the project. By looking through a constructability lens, the interdisciplinary team at Bolton & Menk proposed and realized important design modifications, determined sensible tie-in locations, attained accessibility throughout, and found the best drainage solutions. The original concept was modified into constructible neighborhood updates.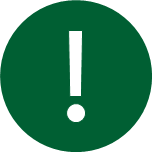 Tie-in locations are where the project extends to, which could range from existing sidewalks and streets to parking and play equipment.
Conquered Challenges for Drake and Bates Spraygrounds
Meeting both the Drake and Bates aesthetic vision with safe ground surfacing for children was a challenge Bolton & Menk was ready to take on. The city wanted to create fun and vibrant spaces that were enjoyable for children and adults alike. The concrete pads for the water play areas were uniquely designed to look like clusters of bubbles with a multi-colored marine coating applied to the surface to provide both slip-resistance and attractive character. The Bolton & Menk team took special care to create a plan that ensured the concrete splash pad surfaces were reinforced and did not buckle or heave.
Sketch plans and renderings from landscape architects helped present the City of Des Moines' approved designs and showcased how they were transformed into a workable solution that met both aesthetic and structural needs. When presented with the initial concept, Bolton & Menk had the challenge to refine concepts and decide How much of this vision can we implement? What makes sense for this project? How can we stay true to a concept design but refine it to make it more functional? These visualizations included colors and layout of manufacture's play equipment to help multiple teams envision the final design, ultimately creating a concept everyone would be on board with.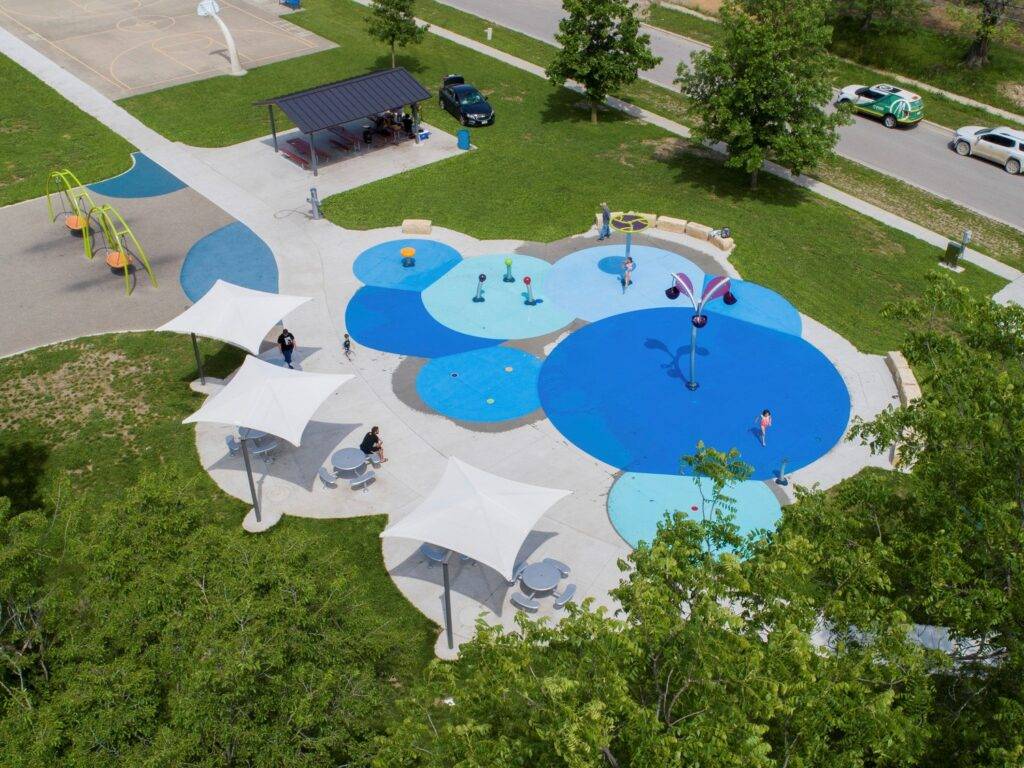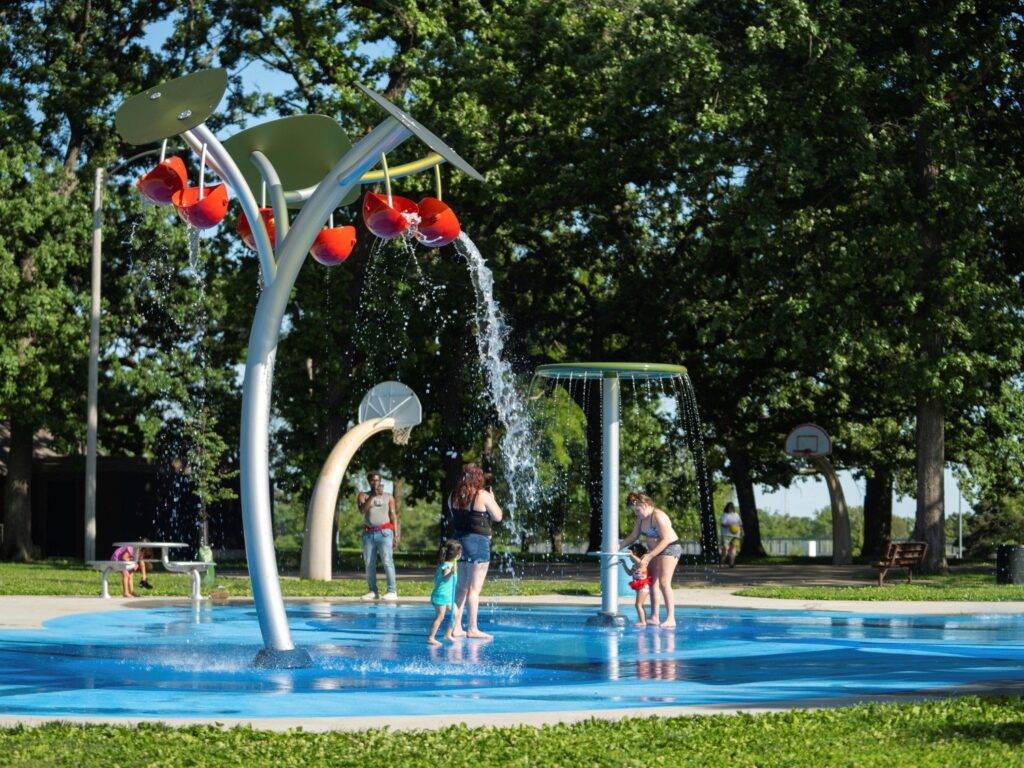 Addressing Accessibility for Drake and Bates Spraygrounds
Making the park accessible for individuals of all ages and abilities was a crucial framework for improving Drake Park. In Drake Park, the historic shelter had to be included in the design plans around the sprayground. The shelter accessibility was greatly improved through sidewalk work and additional accessible parking stalls. A second open-air shelter was created for more accessibility. Designers matched the veneer, shingles, and wood construction of the first historic shelter to create a cohesive look and an overall visually appealing aesthetic. Historic oak trees surround the Drake Park Sprayground area. The city and Bolton & Menk worked together to preserve these trees, while adding an accessible trail on Drake Park Avenue that carefully meanders around the trees.
For both Drake and Bates Parks, dry accessible routes were placed throughout and around the sprayground, so all abilities can access the area. Through thoughtful design, families of all generations can now use the shelters, while their kids enjoy the sprayground under the shade sails.
Bates Sprayground and Park is near 6th Avenue where significant walkability improvements were made just a year earlier by the city. The 6th Avenue project focused on pedestrian facility improvements along the roadway, improving pedestrian walkability and connectivity to neighborhood destinations, such as Bates Park. In this way, both Drake and Bates Spraygrounds are part of the City of Des Moines' initiative to make more walkable and accessible communities within these neighborhoods where car ownership is less common.
Endless Summertime Activities
The renovated Drake and Bates Spraygrounds attracts thousands of visitors. After cooling off on a hot summer day, the Drake neighborhood offers an array of summer activities: the Black Cat Ice Cream Shop, hosting a party at a rentable shelter, enjoying a match at the tennis courts, a bike ride along the new trail, or a picnic underneath the historic oak trees. The new Bates Sprayground will have kids reveling in the new water area all summer long.
The success of the Drake and Bates Park Spraygrounds is attributed to the technical, aesthetic, and functional aspects achieved through outstanding communication between the various groups involved. With both projects complete, the spraygrounds are open to all ages and abilities. Everyone can enjoy the fresh air to revitalize themselves for the week ahead.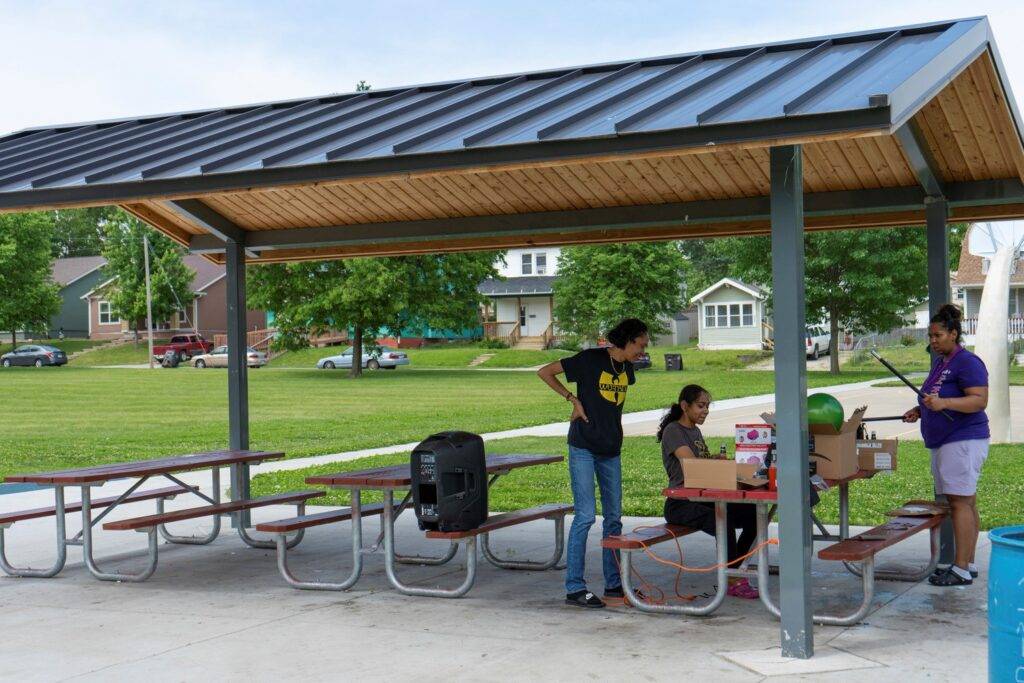 Learn more about our Planning and Urban Design Services, here!
Check out our work on another Splash Pad project, here!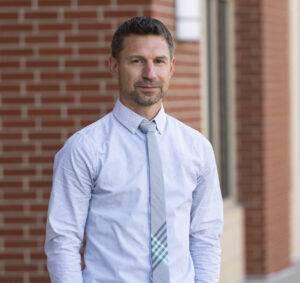 As a principal landscape architect, Sam Kessel uses his broad knowledge and extensive design understanding to find solutions for complex projects that blend function and aesthetics. Sam joined the Bolton & Menk team in 2012 and has proven himself at every turn, excelling on multidisciplinary teams as both a designer and manager. His experience includes sustainable urban design, multimodal design, public art incorporation, site development, and construction observation/administration. Sam's passion for landscape architecture is exemplified through building strong relationships with clients and engaging with city staff and the public during the design process— he's a Real People person.
Aided by his experience in designing numerous parks and splash pads, Sam guided this project through the process and brought a discerning eye to the big picture and the details of the project. He was able to assess early concepts from the city and quickly identify challenges that needed to be addressed in construction documentation, gaining trust with city staff that challenges could be addressed before becoming problems.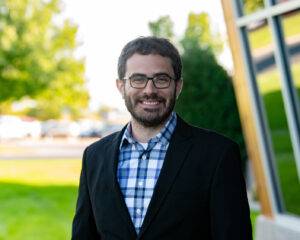 Nate Weitl is a landscape architect who began his career in 2010. He is experienced in community and regional master plans, park and trail design, mixed-use developments, office developments, streetscapes, and urban design. He also develops graphics and illustrations and makes presentations to key decision-makers and the public. Nate's passion is working with clients and community members to develop projects that meet their needs. While Nate was less experienced in splash pad design, he did bring a dedicated passion to deliver a successful project. He used his prior experience in design and construction projects to develop a quality set of construction plans that was carefully priced, ensuring accurate bid pricing so the city could accurately allocate funding for construction of the project.