Synthetic turf fields have seen an uptick in popularity across Minnesota in the last several years, partially due to the newest generation of turf consisting of long fiber carpet with rubber infill, which came on the market in the late 90s. Schools and cities have seen the benefit in pairing synthetic turf fields with natural turf fields to keep up with the high demand of use, varying weather conditions, and decreasing availability of land dedicated to playfields. Synthetic turf can support almost indefinite use without being impacted by the elements. A new synthetic turf field can cause sticker shock for some, but after the cost-per-player-per-hour benefits combined with the ever-evolving sustainability practices, benefits compared to the natural grass cost, will outweigh initial costs.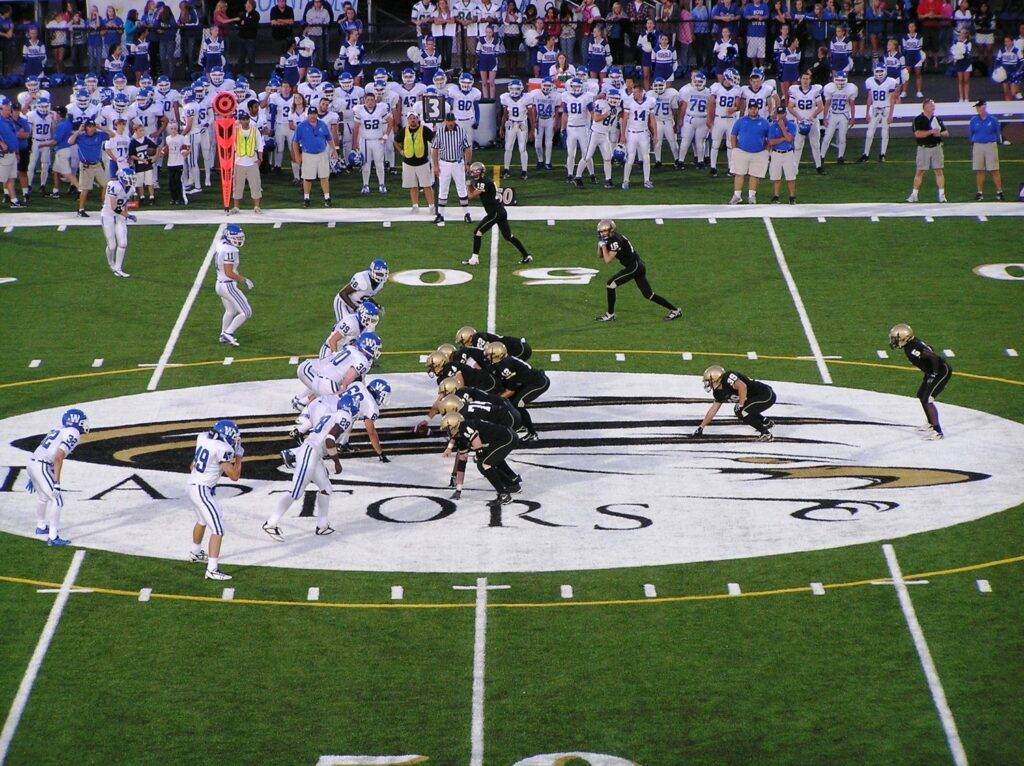 Synthetic turf fields can ease the brunt of natural resource usage through conserving water, eliminating fertilizer usage, and using recycled infill materials. However, they have a burden to bear in recycling and limiting waste associated with building and operating the fields. Sustainable practices are becoming more of a requirement and less of a perk in many aspects of daily life, whether socially, economically, or environmentally. The turf industry is no different, keeping up with sustainable design, construction, maintenance, and replacement is more crucial than ever before.
Microplastics Containment
Microplastics defines small material, less than 5 millimeters, which results from the disposal or breakdown of products and waste. Over the years, the term has most commonly been used in the cosmetics industry. Microbeads wash off and enter the sewage system, passing through treatment, such as clarifiers and filtration systems, potentially causing problems to downstream water supplies. Microplastics in the synthetic turf industry cause concern due to the loss and migration of turf fibers and infill that may affect waterways and aquatic- and land-based environments over time. This topic of issue has been gaining momentum in Europe in recent years and is now becoming part of the conversation in the western hemisphere.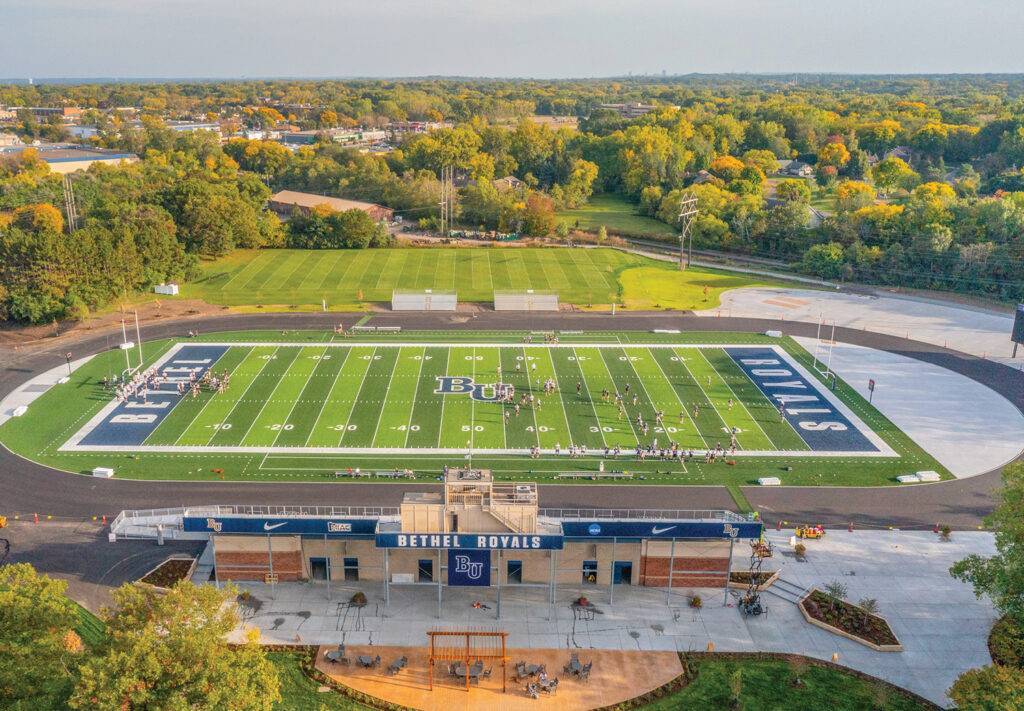 Through conscientious design, construction, and maintenance practices, microplastic migration in turf fields can be minimized through:
Use of proper turf fibers that reduce the amount of infill splash, therefore containing the migration of infill during use, as well as in wet weather or snow plowing.
Specify UV stabilization and durability of turf fibers that would otherwise breakdown through premature aging.
Use of shock padding under the carpet to add resiliency and reduce the need for deeper infill material.
Use of organic infill as an alternate to recycled tires (SBR), such as cork, coconut, walnut husks, or recycled wood.
Implement proper drainage, such as subsurface drainage where possible, impermeable layering to block water and infill from penetrating the subsurface, and provide filters at drain inlets to capture any migrating infill.
Introduce cleat and shoe cleaners at exit gates to capture infill material.
Implement proper maintenance practices and clean grooming equipment prior to leaving the field.
Recycling and Repurposing
Environmental benefits of synthetic turf fields range from repurposing millions of discarded tires for raw building materials, eliminating millions of pounds of fertilizer, and reducing water usage for irrigation by trillions of gallons annually. However, the turf industry has realized the need to move in a direction to creatively recycle and repurpose the ever-increasing number of new and aging turf fields. A typical soccer field is over two acres in size, which has the potential to generate hundreds of tons of waste in carpet and infill materials. Add to that, the amount of jobsite waste, such as turf scraps, wood pallets, plastic wrapping, etc. The need to control the amount of material that is directed to landfills is critical.
Innovative and exciting efforts to control waste in the synthetic turf arena include:
Use of harvesting equipment to allow 80 percent of infill materials to be reclaimed for reuse.
Repurposing recycled yarn and polyurethane backing to create recycled timbers for landscape edging and turf nailer boards, extruded composite pellets for a greener infill option, and recycled plastic for underlayment and shock pad materials.
Use of patent pending processes that install a new field on top of the existing surface, instead of removing and disposing of an aged field.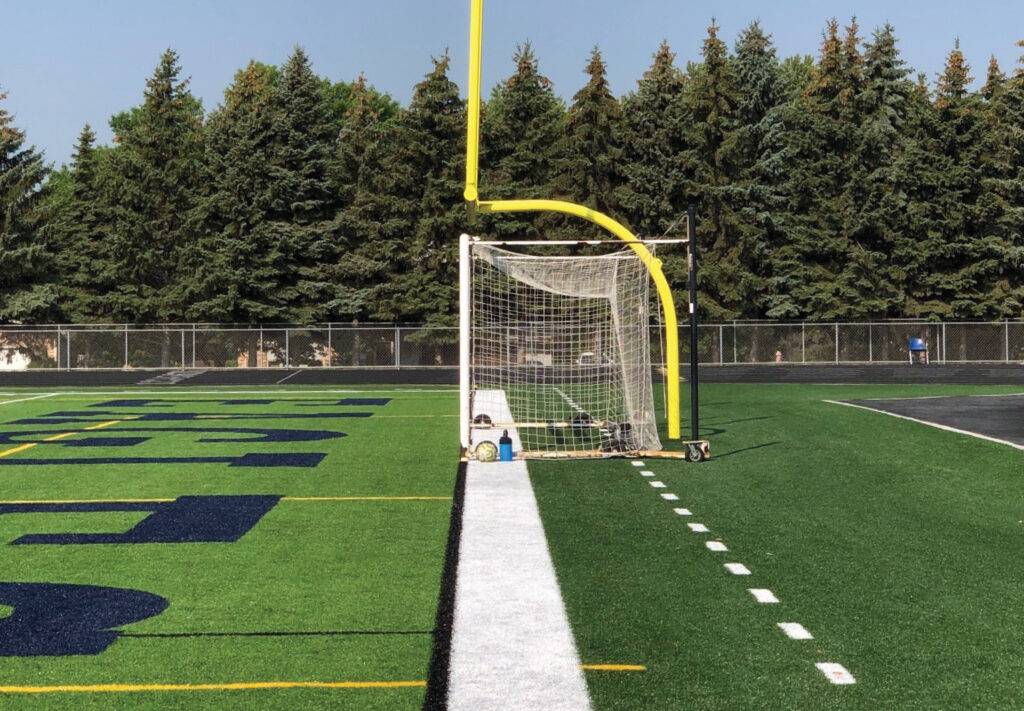 Sustainability in Synthetic Turf
Synthetic turf fields provide many benefits over natural grass fields for a variety of reasons, nevertheless there is always a need for improvement when it comes to conserving and protecting our ecosystems. Through methodical and conscientious design, construction, and maintenance practices, we can limit microplastic migration into our environments, while also taking the opportunity to recycle materials that would otherwise take up space in landfills. Sustainability in synthetic turf fields is not only a trend, but a need.
Bolton & Menk has designed and overseen the construction of over 100 synthetic turf play fields. Contact Jay Pomeroy for additional information and for all your synthetic turf design and engineering needs.
As published in ASCE-MN's newsletter.
Learn more about our athletic facility work, here!