Bolton & Menk got its start as a land surveying company in 1949 and we haven't slowed down since. There are a lot of misconceptions about surveying, so principal surveyor Janele Fowlds is here to set the record straight and provide a few fun facts in our next installation of What's the Fact.
Need a quick refresher on Land Surveying? Check out our Blink! Video about Right-of-Way vs Easements, here!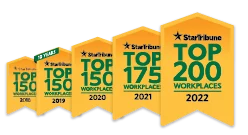 Named one of the very best workplaces in the State of Minnesota! We're proud to rank in the Top 50 on the list, and even prouder that we were voted in by our own employees.