Water is one of the most important necessities that life on Earth needs to survive. Bolton & Menk's talented water and wastewater engineers work to make sure the water we interact with daily is clean, safe, and plentiful. Learn more about the work we do and how we ensure clean water for all from Environmental Project Manager Katie Sterk, PE in this episode of What's the Fact!
Bolton & Menk not only provides clean water and wastewater to local municipalities, we also sent three engineers to Guatemala to design a water system in Santa Elena. Learn more about our work with Engineers with Borders, here!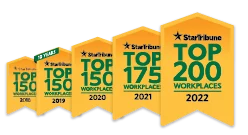 Named one of the very best workplaces in the State of Minnesota! We're proud to rank in the Top 50 on the list, and even prouder that we were voted in by our own employees.