Location
City of Elkhart, Iowa
Sectors
The City of Elkhart is a small community on the northeast side of the Des Moines metro that is rapidly expanding with new home construction. The community had not done a major project in decades. While exploring funding scenarios for a variety of projects, the downtown became a focus of improvement.
After community visioning occurred, the project team looked at ways to use State Revolving Fund Sponsored Project funds in the downtown area. Elkhart staff worked with Bolton & Menk to develop a pervious paver system along Main Street, creating underground rock chambers to not only treat water through percolation in the soil, but also slow the rate of water entering new residential areas, causing flooding downstream. Residential areas were affected by improving Main Street's stormwater system, ensuring the project was economically driven and minimal impacts were caused citywide.
The project team worked with Main Street businesses to design a downtown revitalization project that considered the heavily used vehicular traffic while still providing the environmental components required by the state funding grant sources. Businesses now have functional parking spaces, keeping residents and visitors safe when visiting downtown.
Awards
American Public Works Association – Iowa Chapter – 2021 Project of the Year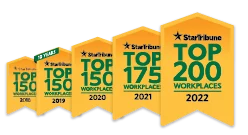 Named one of the very best workplaces in the State of Minnesota! We're proud to rank in the Top 50 on the list, and even prouder that we were voted in by our own employees.