ITC had plans to install a 74-mile-long, 345kv/161kv transmission line across southern Minnesota. A 200-foot-wide right-of-way corridor was needed for the entire route. The route would cross over 350 separate properties.
Bolton & Menk provided land surveying services for the right-of-way acquisition. Section corner recovery was performed for more than 450 section corners, all section lines, road rights-of-way, and property boundaries were established for the entire route. This provided the framework for project layout and right-of-way acquisition. More than 350 separate easement exhibits were prepared for the acquisition. Separate full parcel surveys were prepared on more than 30 properties along with numerous miscellaneous exhibits. We also provided construction staking services for the project.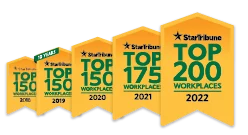 Named one of the very best workplaces in the State of Minnesota! We're proud to rank in the Top 50 on the list, and even prouder that we were voted in by our own employees.