Location
Minnesota Energy Resources Corporation
Solutions
Sectors
Minnesota Energy Resources Corporation (MERC) needed to replace underground utilities and services for their Gas Utility Infrastructure Costs project in Pine City. To complete the replacement of service lines, all public and private rights-of-way and parcel line determinations were required in the project area. Ownership of all public and private roadways was uncertain for much of the area. Therefore, extensive title research and review was required. The majority of the 200 plus properties within the project area were metes and bounds parcels with many gaps and overlaps between adjoining parcels.

Bolton & Menk's surveyors meticulously reviewed hundreds of title documents, giving us the knowledge and understanding to best advise MERC on current ownership conditions. During construction, we provided field staking of public right-of-way to aid the contractor in placing utilities within the public right-of-way. With our detailed surveying and coordination with MERC, the project was built largely within the public road right-of-way, requiring few easement acquisitions.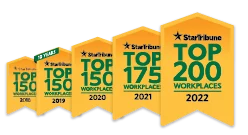 Named one of the very best workplaces in the State of Minnesota! We're proud to rank in the Top 50 on the list, and even prouder that we were voted in by our own employees.