Location
City of Northfield, Minnesota
Solutions
Sectors
The City of Northfield experienced a catastrophic fire in their biosolids treatment building. Bolton & Menk performed interim biosolids treatment options and designed a new replacement biosolids treatment facility. Our team expedited the evaluation of various interim biosolids treatment options to help the city during crisis mode. A temporary Class A biosolids treatment was designed and procured for the city for interim treatment. This temporary system was housed in one of the existing dry biosolids storage buildings not affected by the fire.
The fire completely damaged all equipment beyond repair, but the building could be reused. Bolton & Menk evaluated different biosolids treatment systems that would not only meet the city's requirements but also fit into the existing building. The City of Northfield's staff and Bolton & Menk design team selected Schwing Bioset Class A biosolids treatment process. The process included two dewatering screw presses and a Bioset Class A process. A new odor scrubber system was designed also to avoid odor issues. Bolton & Menk also helped the city with the insurance claim process.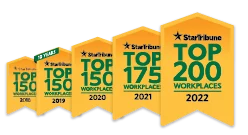 Named one of the very best workplaces in the State of Minnesota! We're proud to rank in the Top 50 on the list, and even prouder that we were voted in by our own employees.