Bolton & Menk, in partnership with Terrametrix, now offers Mobile 3D LiDAR Scanning. This new technology captures laser-accurate data in minutes, while incorporating immense vertical information that can't be obtained through traditional survey methods.
Mobile 3D LiDAR scanning features:
Survey high-speed corridors at traffic speeds
Proven Accuracy to 0.03 ft
Ideal for constrained urban environments and long rural corridors
We would like to package multiple surveys this fall. To learn more please contact:
Nate Stadler, L.S.
(612) 756-0957
natest@bolton-menk.com
Chris Chromy, P.E. PTOE
(612) 756-1236
chrisch@bolton-menk.com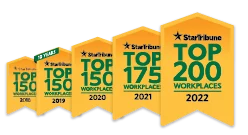 Named one of the very best workplaces in the State of Minnesota! We're proud to rank in the Top 50 on the list, and even prouder that we were voted in by our own employees.