Location
Tyson Foods, Inc.
Solutions
Sectors
Tyson Foods needed to install a phosphorus removal system at its pork processing facility in Perry, Iowa as required by the Iowa Nutrient Reduction Strategy. The existing plant design included both fixed film roughing filters and activated sludge aeration basins.
Bolton & Menk provided engineering design services for biological and chemical phosphorus removal processes. The plant improvements included anaerobic, anoxic, and aeration basins and an additional clarifier for biological phosphorus removal and a chemical feed and mixing system for chemical phosphorus removal from the fixed film process effluent.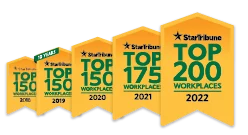 Named one of the very best workplaces in the State of Minnesota! We're proud to rank in the Top 50 on the list, and even prouder that we were voted in by our own employees.