Our staff are experienced writers and can help you with your publications. We can prepare anything from fact sheets or brochures to large publications. We can also facilitate advisory committee meetings to prepare publications. Examples: newsletters, fact sheets, brochures, booklets, curriculum, manuals and songs.
Written publications that our staff have authored, co-authored or contributed to: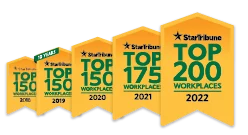 Named one of the very best workplaces in the State of Minnesota! We're proud to rank in the Top 50 on the list, and even prouder that we were voted in by our own employees.