When you ask a child, "what do you want to be when you grow up?" the answer is usually a firefighter, a doctor, or an astronaut. These careers are exposed to children at a very young age through toys, television, books, and everyday conversations. How can we encourage children to discover the multitude of other career possibilities available, including STEAM paths? Well, we found a few ways.
A series of children's books were created and written by Bolton & Menk staff to explore the different career paths in the engineering industry, from the water cycle to landscape architecture to civil engineering.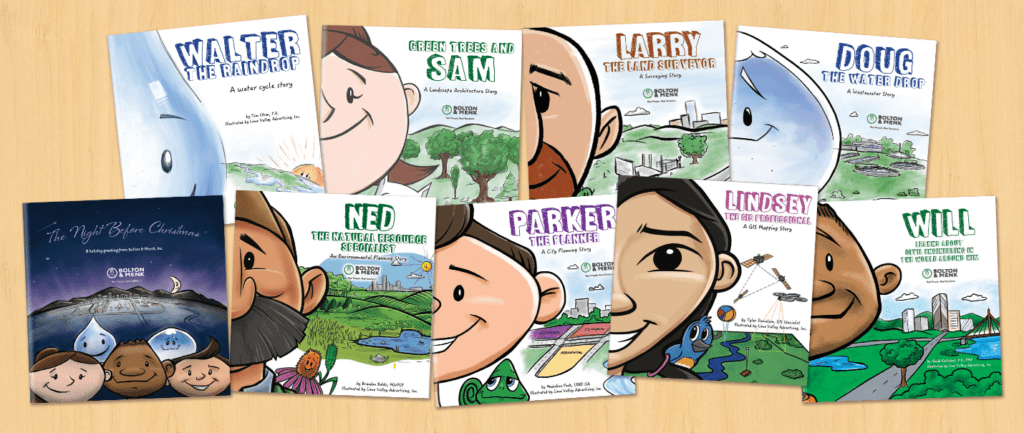 How the books came to be
The children's books came to life from the initial request of the Smithsonian Institute, which sought out educational materials for youth in conjunction with their traveling water education exhibit. From here, the story of the Walter the Raindrop naturally emerged from Tim Olson, Principal Water Resources Engineer for Bolton & Menk. Tim created a STEAM-focused story, from the perspective of a cartoon raindrop, that could easily teach children about the water cycle and how water resources engineers help protect the environment. After the first book was created, Tim wondered why can't we do this for all the disciplines of our firm? Since there appeared to be a gap in career-focused STEAM content for youth, this created a remarkable opportunity to explain various career fields and describe what people do in the real world through children's literature. From then on, experts in each discipline at Bolton & Menk created an eight-part series to explain an array of engineering-related careers.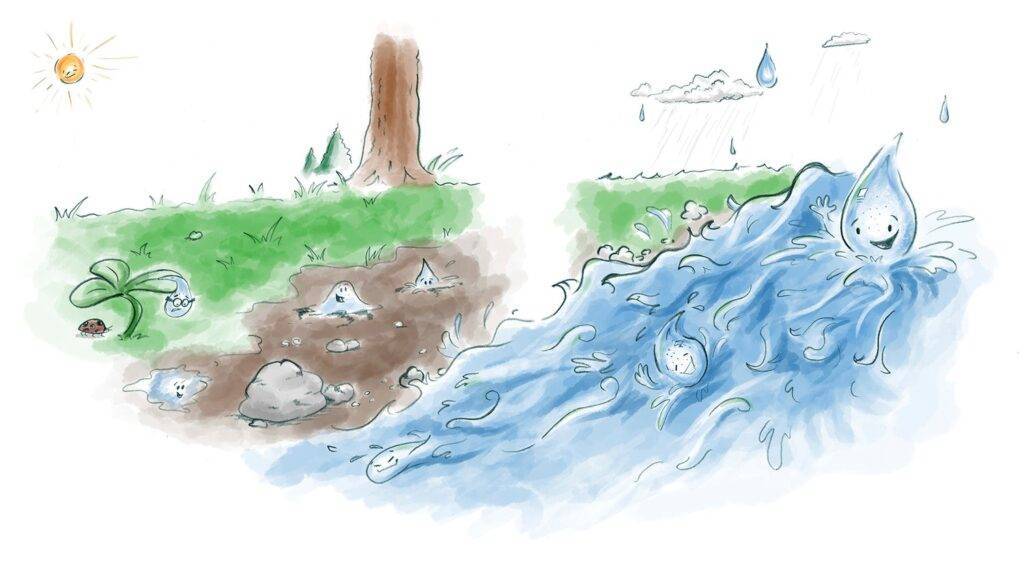 The process of writing a children's book was perhaps an unconventional one for Tim, but after a few hours during a road trip, he and his wife, Melissa, wrote Walter the Raindrop. Tim wanted to give an introduction into the water resources field by diving into the water droplet's journey through the water cycle. Melissa brought a child's perspective and tone to the story from her experience as an elementary school teacher. Tim then took the draft to Bolton & Menk's marketing team for review and illustrators helped bring the story to life. "These books were written to serve the industry as a whole," Tim explained. "Breaking down technical information into basic elements to turn technical information into an understandable and engaging story was one of the biggest challenges of creating a children's book," Tim expressed. The Green Trees and Sam story added another layer of complexity to their book by applying a rhyming scheme throughout the story, in addition to fleshing out the technical jargon.
Bringing Stories to Life in the Classroom
Stories are meant to be shared with peers for the purpose of entertainment or education. Why not both? Tim Olson recognized the mental gap students have between their desired well-known careers and actual STEAM opportunities. He decided to become part of the solution by leveraging the conversation through literature. He began visiting classrooms to read Walter the Raindrop to students. Tim realized that reading the books in person is a great catalyst for conversation among students: "Watching the kids realize the author is the one telling the story and seeing them light up and make connections to their own lives is a very rewarding feeling. The conversations that spark from the book wouldn't be as natural without Walter telling that story from the beginning."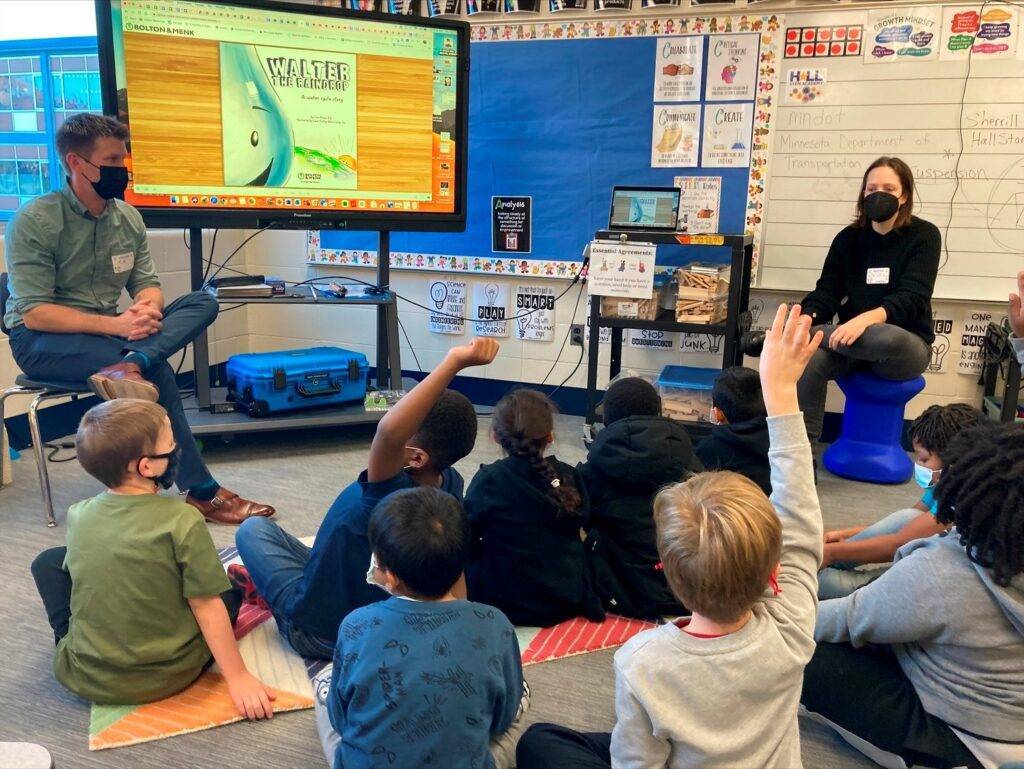 Literature Beyond the Classroom
Sarah Lloyd, Principal Engineer for Bolton & Menk, enjoys reading the books to her own children. "These books help me explain to my kids what I do for work, and it's a fun, lighthearted introduction into the STEAM career world." Sarah has gifted the books to clients and people with young children, and many have subsequently expressed how much they enjoy using them to tackle explaining their intricate careers. Tyler Danielson, GIS Project Manager for Bolton & Menk, has even heard of adults giving the books to their own parents to help explain their career to those who may not be familiar with the STEAM fields.
Hands-On Activities with STEAM Careers
Aside from reading his own children's book in classrooms, Lindsey the GIS Professional, Tyler Danielson brought something else to the table. Instead of reading to students, his focus revolves around hands-on activities, bringing STEAM to life in an alternate way. For National Geographic Information Systems (GIS) Day, Tyler visited 3rd grade classrooms to demonstrate GIS mapping by bringing an assortment of local maps for students to view and explore. "Seeing students make connections from the GIS maps to their own neighborhoods is a rewarding lightbulb moment I see students experience," Tyler expressed. "When I was a child, I was captivated by gazetteers and state highway maps, and I wondered about the people who lived in the towns I was looking at. As an adult, I realized that this interest I had in mapping could be part of a real career in GIS." Professionals who visit classrooms to share their experiences provide imperative career exposure to students, allowing them to explore all career possibilities available to them. "It was a memorable experience that students talked about for a long time. It inspired them to think about their future career and maps differently," Cassie Lahmann expressed, a 3rd grade teacher from Capital View Elementary School in Des Moines.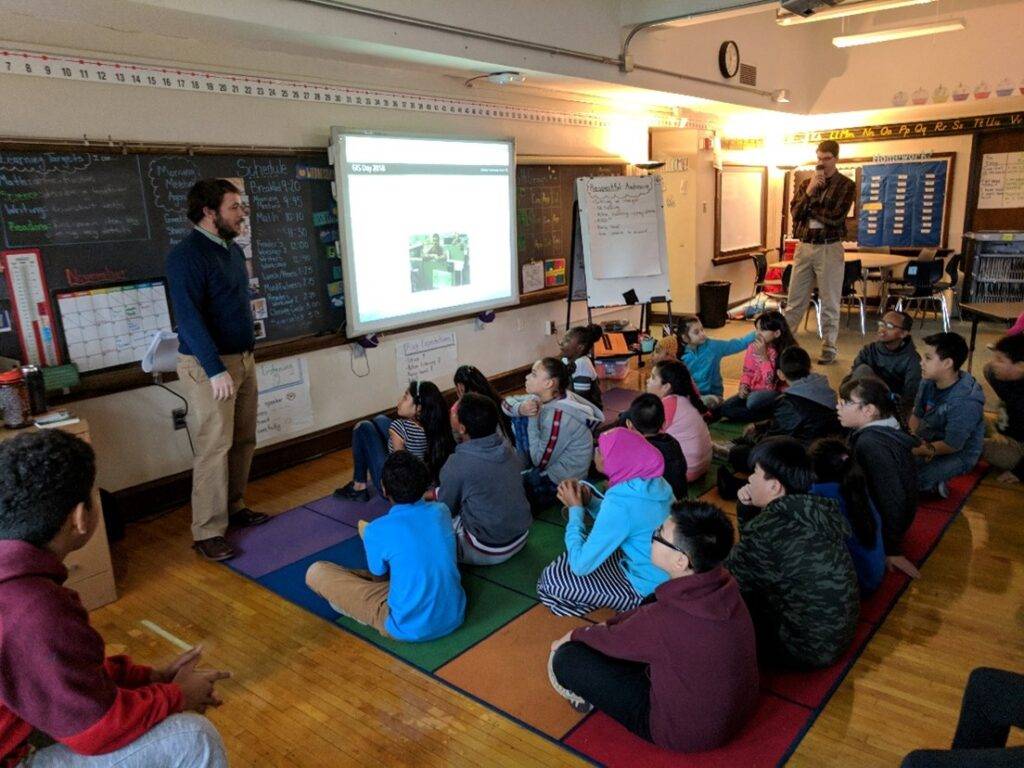 Tim Olson also embraces hands-on learning by using a tool with students called the EnviroScape, which parallels his Walter the Raindrop story. The EnviroScape is a 3-dimensional educational model that helps STEAM learners understand how land uses are connected, how stormwater runs off the earth's surface and where it goes, where certain pollution builds up on our landscape, and how engineers trap pollution before it flows to our local waterways. "As a team, we identify land uses and the pollution we expect to see in our neighborhoods, then we make early predictions about how much pollution we can trap," Tim explains. "It's really amazing to watch the students process the flow of pollution into the lake. When given the opportunity to re-design their rain gardens, I can see how much more pollution they can trap with improved design." Through the interactive experience, students practice teamwork and engage in meaningful discussions about how engineers and scientists make predictions and how they modify their designs for public benefit.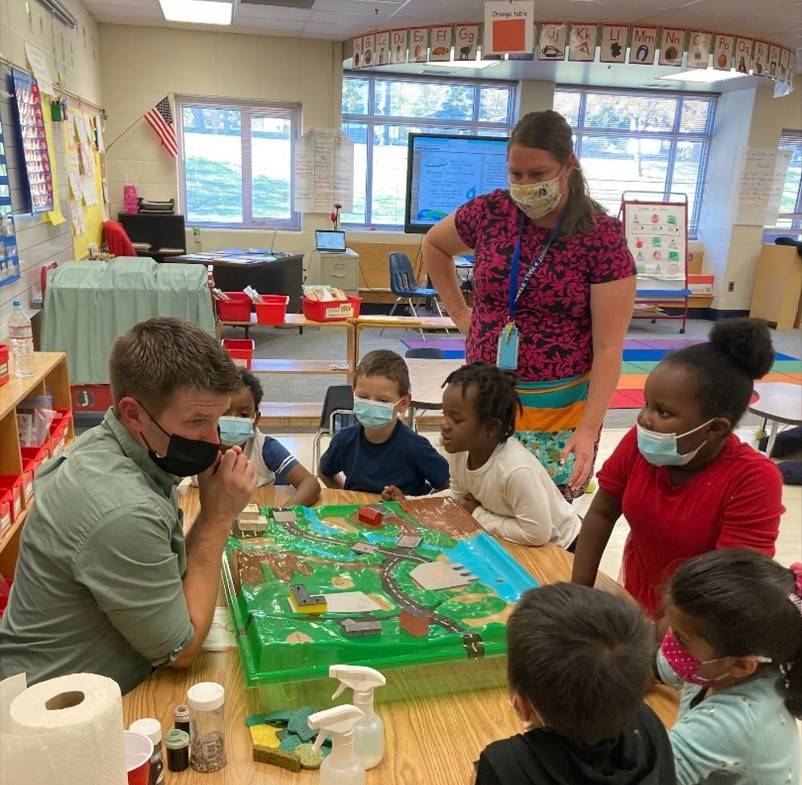 What More Can We Do to Engage Students in STEAM?
Getting young students involved in discovering STEAM outside of the classroom is imperative. Educational youth groups, 4H, girl/boy scouts, after-school programs, and library programs are all great places to start getting students involved. Tyler Danielson expressed: "Everyone knows a teacher. Talk to them and see what opportunities are available for donating your time to a classroom or learning what school programs are available."
What steps can you take to expose the latest generation to STEAM opportunities? How can you get involved?
Children's Book Resources
Bolton & Menk's Children's books can be accessed for free at bolton-menk.com/library
Parker, Sam, Will, and Lindsey books are available for purchase on Amazon.com.
Visit SteamAtWork.com to browse printable activities and games related to our children's books, through our partnership with Esri Press.
We've begun the process of translating the children's books into multiple languages, and currently have a Spanish version of Lindsey The GIS Professional available on Amazon.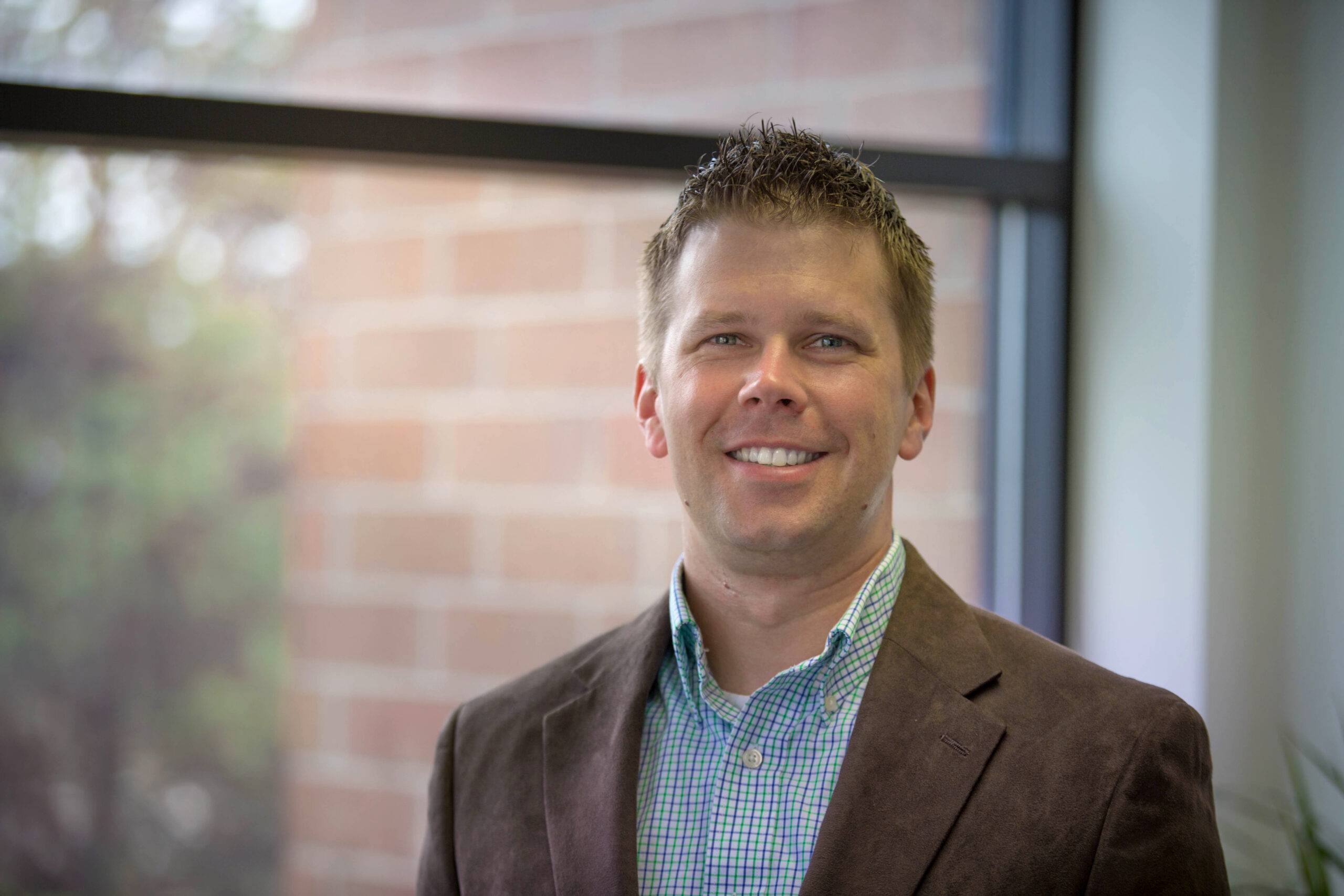 Tim Olson, Principal Water Resources Engineer, spearheaded the children's book series through his commitment to increasing awareness of STEAM professions. He strives to make all avenues of STEAM career paths accessible and engaging for children. Growing up in Minnesota, land of 10,000 lakes, Tim found passion in a career for protecting these important water resources. He hopes for kids to find their same passion through exposure to STEAM professions. Tim has worked on the design and construction of complex water resources and environmentally sensitive projects. He finds value in facilitating partnerships, developing new relationships, and collaborating with stakeholders to define a common vision and work toward shared goals.
Learn more about our Water Resources services, here: Water Resources Engineering – Bolton & Menk (bolton-menk.com)
You can read Tim's children's book, Walter The Raindrop, for free, here: Walter the Raindrop (bolton-menk.com)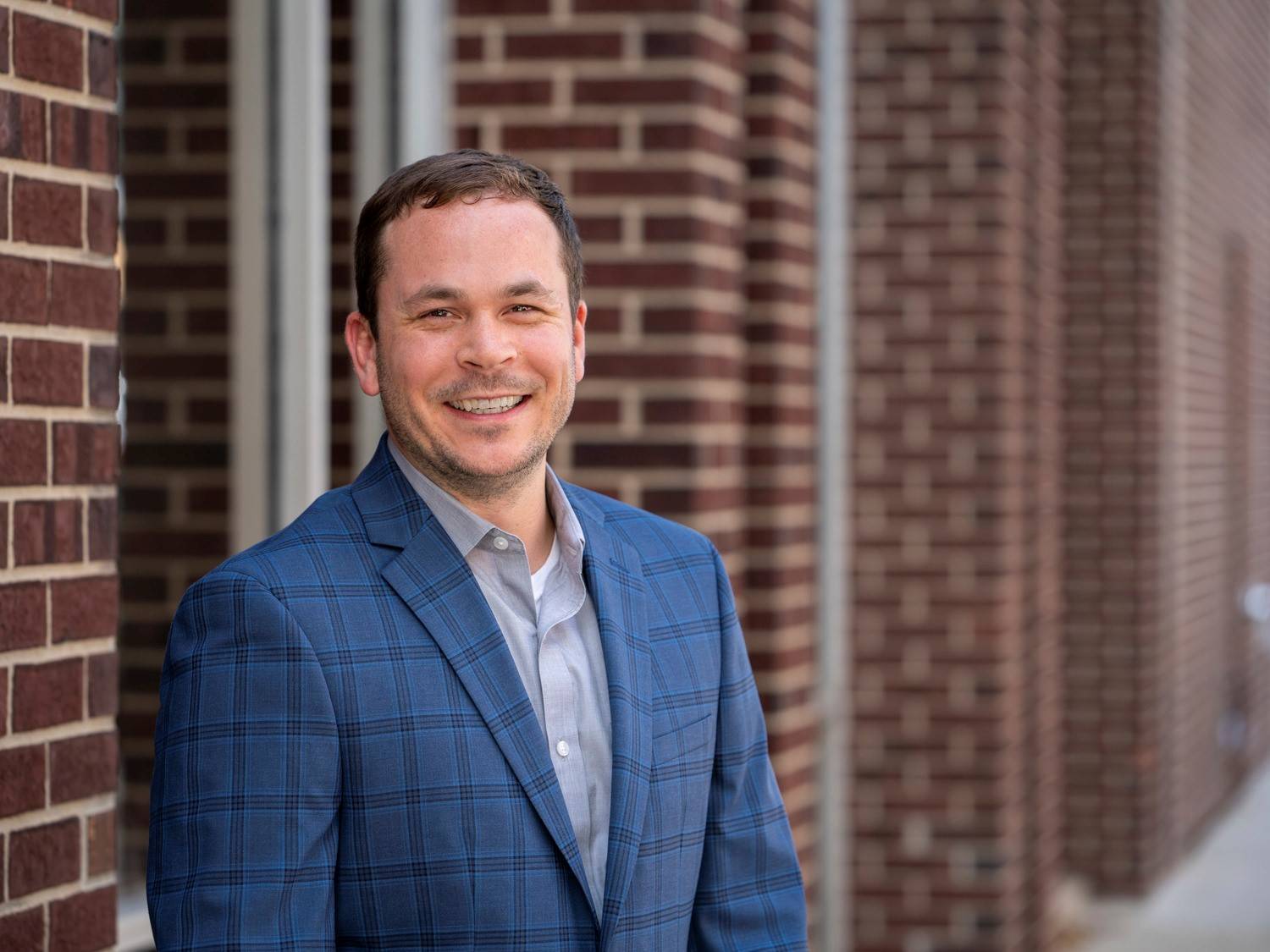 Tyler Danielson, GIS Project Manager, finds that one of the most effective ways to engage students in STEAM activities is through interactive experiences. On National GIS day, he demonstrates GIS mapping in-person by using hands-on learning in classrooms to facilitate conversation among students. Since Tyler's college path was not a straightforward one, he often reflects on how he missed connecting his interest in childhood maps to a career in GIS, in part due to lack of STEAM career exposure as an adolescent. With his involvement in children's books and classrooms, he hopes to give the next generation the tools to explore all avenues of STEAM careers. Tyler's professional expertise lies in internal and external clients and assists with database development, data analysis, and advanced map development and layout.
Explore more about our GIS services, here: Geographic Information Systems – Bolton & Menk (bolton-menk.com)
You can read Tyler's children's book, Lindsey The GIS Professional, for free, here: Lindsey the GIS Professional (bolton-menk.com)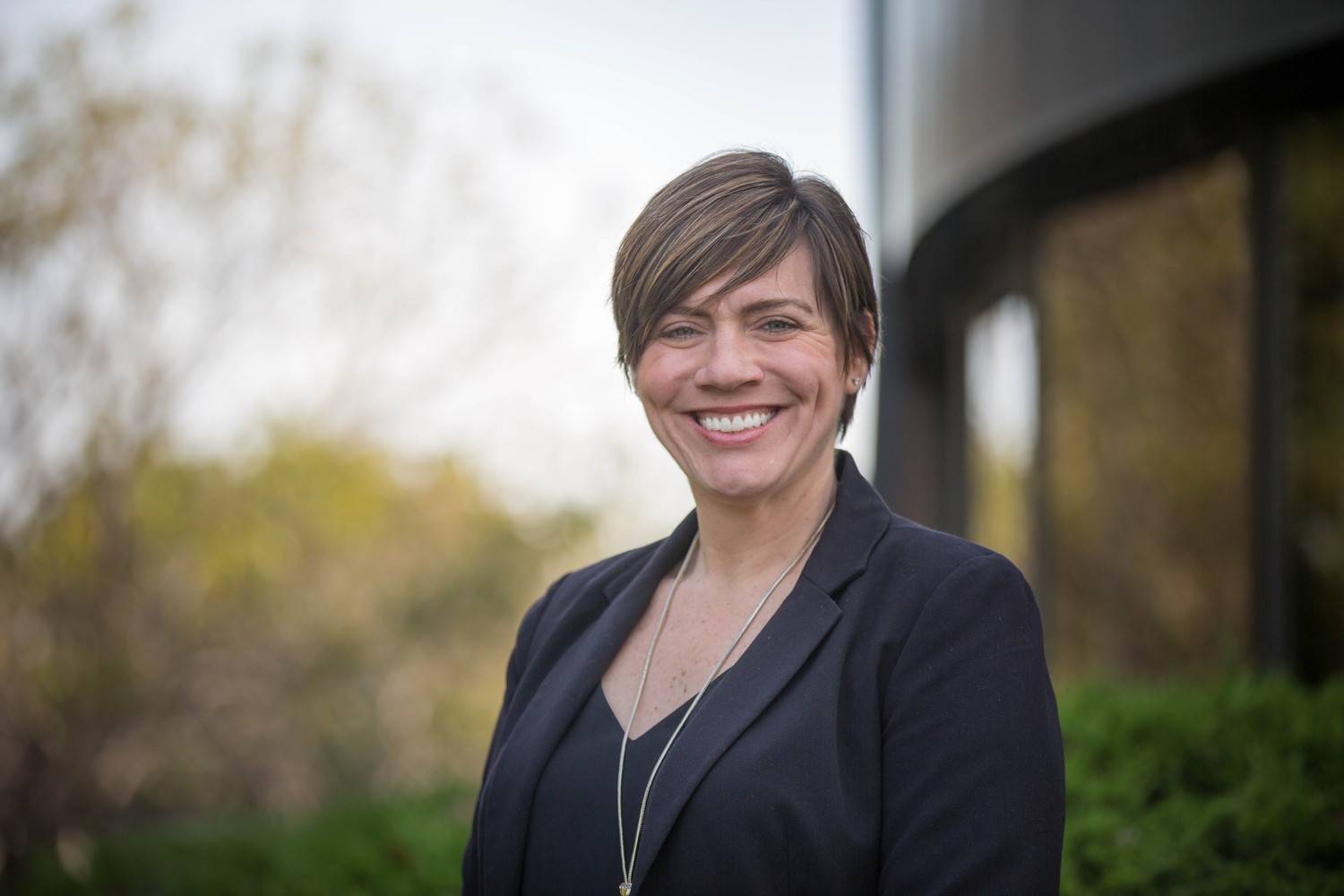 Sarah Lloyd, Principal Engineer, believes in the power of literature to engage children in STEAM areas in a fun and understandable way. Her own kids getting excited over reading about the water cycle is a stand-out memory for her. Sarah is passionate about shedding light on STEAM career fields early on, especially for young girls, so they can feel empowered to tackle any career path. To keep girls from drifting away from STEAM subjects as early as elementary school, Sarah knows it becomes crucially important to keep girls engaged with STEAM exercises and have more female role models in the field. Professionally, Sarah works on a variety of municipal street and utility infrastructure projects including new construction and reconstruction. She enjoys collaborating with clients to come up with solutions and help them achieve their goals.
Read more about our Civil Engineering services, here: Civil/Municipal Planning & Engineering – Bolton & Menk (bolton-menk.com)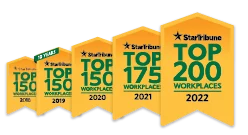 Named one of the very best workplaces in the State of Minnesota! We're proud to rank in the Top 50 on the list, and even prouder that we were voted in by our own employees.