Location
City of Bloomington, Minnesota
Sectors
The City of Bloomington experienced areas of flood vulnerability southeast and southwest of the I-35 and I-94 interchange. During extreme rainfall events, runoff overwhelmed the existing storm sewer pipe capacity and was stored above ground until the existing pipe system could attenuate the flow. Because the area was fully developed, there was limited safe storage before flood damage occurred. Further, open space for excavating a stormwater detention basin was limited. Office and field survey tasks were performed to produce a consolidated map of property, easements, and existing conditions. Prior to finalizing design, Bolton & Menk evaluated the preliminary XPSWMM modeling previously developed. After a thorough analysis, multiple model corrections were made but no significant design changes were necessary. A design solution that increased the outfall storm sewer capacity was finalized. Additionally, Bolton & Menk created a project communication website detailing the scope, schedule, and updates of the project.
Awards
City Engineers Association of Minnesota – 2019 Project of the Year Honorable Mention

American Council of Engineering Companies of Minnesota – 2019 Honor Award

Minnesota Chapter of the American Public Works Association – 2019 Project of the Year Award
Resources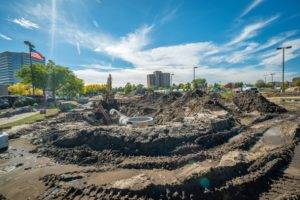 Bolton & Menk designed a subsurface linear stormwater storage system to substantially improve flooding for property owners and provide the necessary conveyance to route stormwater away from the problem area.
Learn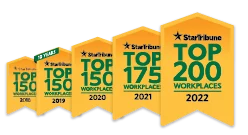 Named one of the very best workplaces in the State of Minnesota! We're proud to rank in the Top 50 on the list, and even prouder that we were voted in by our own employees.