Location
City of Lakeville, Minnesota
Sectors
The City of Lakeville has both new and aging infrastructure. In the established areas of town, the city continues to see infill development. As such, some existing and aging infrastructure needed upgrades to meet the increased demands of new development. Bolton & Menk urbanized a rural collector road associated with an incoming development, including roadway expansion, curb and gutter, storm sewer network, regional infiltration basin BMP, and a large prefabricated modular block retaining wall.
Improvements were sandwiched between I-35 and Lee Lake with steep slopes and limited right-of-way. We maintained close coordination with MnDOT water resources staff to address water quality concerns with the project's proximity to Lee Lake, and helped the city secure a significant watershed grant to help fund construction of a regional infiltration basin. A creative and iterative design process was required to meet city needs while staying within budget. Communication with the city and other stakeholders was essential in creating a product that worked for all parties.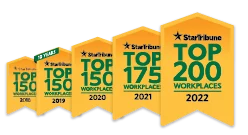 Named one of the very best workplaces in the State of Minnesota! We're proud to rank in the Top 50 on the list, and even prouder that we were voted in by our own employees.