Location
City of Fridley, Minnesota
Sectors
An existing Main Street (Anoka County CSAH 102) Bridge did not provide a safe crossing for pedestrians and bicyclists. There was no separation from traffic and only 1.5-foot shoulders. Visibility was limited due to the crown of the bridge and heavy truck use made on-road crossing dangerous.
Bolton & Menk completed a $1.9 million federal aid project consisting of 8,500 feet of shared use trail connecting 44th Avenue to 57th Avenue on the west side of Main Street. A 200-foot prefabricated steel through truss pedestrian bridge spans I-694.
The project provides a connection for pedestrians and bicyclists on Main Street. The project extends the trail south across I-694 and enables residents living in southern Fridley and northern Columbia Heights to reach transit, employment, and commercial areas.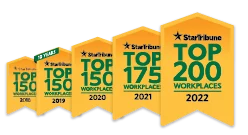 Named one of the very best workplaces in the State of Minnesota! We're proud to rank in the Top 50 on the list, and even prouder that we were voted in by our own employees.