Location
MnDOT District 7
Overview
Raising the road above the 100-year flood elevation allows for continuous operation of the highway during flooding events.
–
Sectors
Four segments of TH 169 between Mankato and Saint Peter were prone to flooding. This caused seven roadway closures over a twenty-year period. A project was developed to reconstruct 9 miles of the highway. Bolton & Menk completed final design and plan production for 3 miles of the flood-prone segments, which required full closure.
The roadway was raised above the 100-year flood elevation to allow for continuous operation of the highway during flooding events. The project also included 6 miles of milling existing pavement and a concrete overlay. Meetings were held to review alternatives for design of the concrete and high-tension cable median barrier proposed in the tight corridor. Working with MnDOT, public meetings were facilitated to gather design input. All accesses were reviewed with adjacent property owners to implement access management controls to improve corridor safety. Utility coordination was also managed. The project included coordination with a multitude of stakeholders, including MnDNR and the U.S. Army Corps of Engineers to design bendway weirs in the Minnesota River to further reduce erosion and flooding impacts.
Final design and preparation of bidding documents was successfully completed on an accelerated eight-month schedule.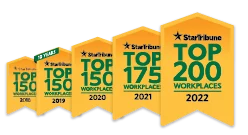 Named one of the very best workplaces in the State of Minnesota! We're proud to rank in the Top 50 on the list, and even prouder that we were voted in by our own employees.