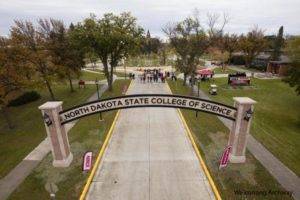 The American Council of Engineering Companies of North Dakota recognized the North Dakota State College of Science (NDSCS) with the 2018 Engineering Excellence Award in Special Projects for their Infrastructure improvements. This $13 million project, which improved utility infrastructure and addressed pedestrian, ADA, parking, and traffic movement, was completed over the course of three construction seasons. NDSCS is the second oldest two-year college in the country with 130 years of history that needed to be preserved and restored. The college enrolls roughly 3,000 per year and did not want their daily activities to halt, so construction operated around a schedule that would not interrupt classes, tours, sporting events, or extra curriculars.
Bolton & Menk provided program management, engineering, landscape architecture design, and construction observation. A campus-wide GIS system was implemented for efficient collection and use of as-built and utility information that reduces facility labor costs and increases accuracy of information for asset management. Additionally, a robust public and campus information campaign was implemented, which included a project-specific website, social media and text alerts, and public campus meetings. Because of innovative planning and engineering, the campus underwent its most important, intrusive, and disruptive project—all while maintaining full operational capacity, classes, and additional events. The campus now has state-of-the-art utilities, enhanced pedestrian transportation, and campus beautification through landscape architecture. By completing the necessary infrastructure and beautification improvements around campus, the historical significance has been preserved, and NDSCS will run smoothly for many years to come.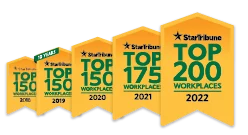 Named one of the very best workplaces in the State of Minnesota! We're proud to rank in the Top 50 on the list, and even prouder that we were voted in by our own employees.