Services
Environmental Planning

Community Planning

Transportation Planning

Trails, Parks & Recreation Planning

Landscape Architecture & Urban Design

Wayfinding & Monumentation

Public Engagement & Communication
Our planning and urban design group creates engaging, sustainable places within communities. We use proven and creative planning to craft beautiful, buildable spaces. We engage your community members, build on their ideas, and find solutions that will work today, and tomorrow.
At Bolton & Menk, our approach covers the full project – from big picture to the technical details of construction and function. Whether we are designing an attractive space or creating a long-term vision, you can count on us to bring creativity and innovation. We are passionate about creating great places for all of us to enjoy.
Landscape Architecture projects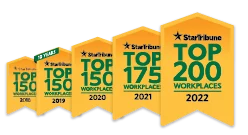 Named one of the very best workplaces in the State of Minnesota! We're proud to rank in the Top 50 on the list, and even prouder that we were voted in by our own employees.