Looking to jump start your career in a new area? Bolton & Menk is proud to offer our apprenticeship programs, where you can learn and earn on the job. In our apprenticeship programs, you will be matched with a mentor while you learn real-life skills on the job, and also have an opportunity to attend an accredited university for the classroom perspective.

Our apprenticeship programs are both two-year programs. After completing your program, you will be eligible for either a Survey Technician or Civil Engineering Technician role.
Where will I work?

Our apprenticeship programs are currently active in Iowa and will be expanding to the rest of the Midwest and our Southeast region in the near future.

Check out our office locations to learn which location works best for you!

You will work both in office and out in the field based on apprenticeship program under the guidance of your mentor.
What are my hours?

This role is a standard 40+ hours a week position. In the summer, it is not unusual to work 10+ hour days at the peak of the construction season. Much of the work is outside, so you will be subject to varying weather conditions.
What will I earn?

In addition to receiving your Registered Apprenticeship Training Certification, apprentices are paid an hourly rate plus time and a half above 40 hours in a week. Apprentices also receive wage increases when competencies are met through the program.
What school will I go to?

Bolton & Menk is partnering with Des Moines Area Community College to assist our Iowa apprentices. The majority of your coursework will be online, but you will have to attend a few in-person labs throughout the course of the apprenticeship program.
What funding opportunities are available for my education?

In Iowa, most apprentices utilize FAFSA and Last Dollar Scholarship to cover education costs.
---
Civil Engineering Technician Apprentice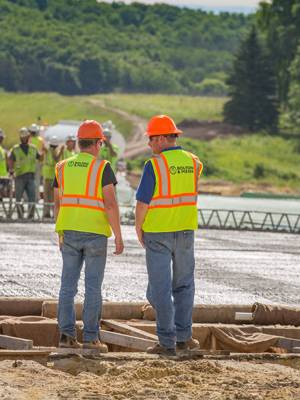 Survey Technician Apprentice