At Bolton & Menk, we specialize in designing all scales and densities of residential uses from multi-family mixed-use infill projects to single-family residential communities with a variety of housing types. Our residential specialists have developed an impressive list of planning techniques that provide developers with many advantages for understanding the market and incorporating best-practices for layout, amenities, infrastructure, way finding, and other important design considerations. We use the latest software capabilities to integrate vertical and horizontal engineering with earth work and cost analytics to assure predictable budget compliance from utility layout to landscape design. Our team has an excellent track record with submittals and permitting and a thorough knowledge of all aspects of building placement and subdivision submittals.
The highest value of parcel of property cannot be attained without the entitlements necessary to allow development to the highest and best use. Recognizing this, Bolton & Menk specializes in property rights cases, providing guidance and expertise in rezoning of property for our clients. We also developed expertise in annexations, development agreements, Special Tax Districts, and other land management vehicles which allow development entities to achieve value.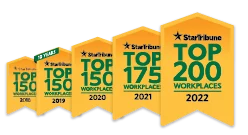 Named one of the very best workplaces in the State of Minnesota! We're proud to rank in the Top 50 on the list, and even prouder that we were voted in by our own employees.