Bolton & Menk has provided civil engineering, site circulation, traffic safety improvements, landscape architecture, and master planning services for more than 120 public and private schools and universities. We are dedicated to creating exceptional learning and living environments that exceed our clients' academic goals and improve the quality of community at all education levels. Our education experience features multiple project types, including campus planning and facilities plans, residence halls, student unions, dining halls, performing arts centers, classrooms/laboratories, libraries, streets and parking lots, and athletic facilities.
We assist clients with planning, securing funds, and/or implementation (design and construction) of Safe Routes to School projects. Our staff is specially trained and focused on pedestrian and bike project planning, design, and construction; DOT design standards and guidelines; and ADA compliance standards and regulations. We guide communities through the planning and stakeholder outreach necessary to establish a common goal and effective project. We also provide sports field design services. Whether for educational purposes or professional-level competition events, we design with your budget in mind and provide a field design to suit its intended use. We have designed synthetic turf fields and bring extensive design experience with blended topsoil fields.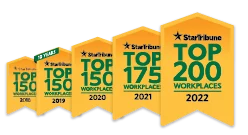 Named one of the very best workplaces in the State of Minnesota! We're proud to rank in the Top 50 on the list, and even prouder that we were voted in by our own employees.