ADA Transition Plans are always developing as requirements change and advance, and while each state's regulations are different, its important public agencies are up-to-date. Bolton & Menk has experts to help perform an efficient self-evaluation process, assisting agencies with evaluating policies, practices, and programs to ensure they meet requirements set forth in the ADA – no matter where you are.
Check out these links to learn more about how we can help you, in your state. Minnesota | Iowa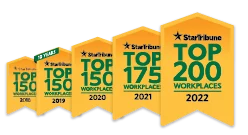 Named one of the very best workplaces in the State of Minnesota! We're proud to rank in the Top 50 on the list, and even prouder that we were voted in by our own employees.