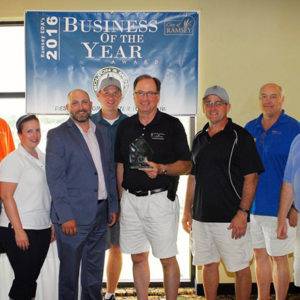 Bolton & Menk, Inc. has been named the 2016 Business of the Year by the City of Ramsey and the Ramsey Economic Development Authority. The firm was chosen for its involvement within the community, the number of quality jobs it provides, and its commitment to deliver a service that the entire community can be proud of. Nominees are selected based on length of tenure, number of employees, community involvement, and company uniqueness. Bolton & Menk had exemplary standing in all four categories.
For the past ten years, the employees of Bolton & Menk have served the Ramsey community through their engineering services, innovative technologies, and community-based outreach. The City of Ramsey has benefited significantly from Bolton & Menk's presence in the community. The Ramsey location has continued to expand and develop since its start in 2006. Despite opening shortly before the economic downturn of 2008, Bolton & Menk has been able to support a growing staff. At Bolton & Menk, staff is trained to consider new and innovative technologies in designing, planning, and building for tomorrow. They are committed to improving quality of life through engineering excellence and client service.
Bolton & Menk has shown continuous support of the Ramsey community through its partnership with many community events, including sponsorship of the annual Happy Days Festival, EDA Business Appreciation Golf Tournament, Anoka Area Chamber of Commerce events, events through Youth First Community of Promise, and more. Employees of Bolton & Menk are also active members of The City of Ramsey Foundation and the Ramsey Rotary.