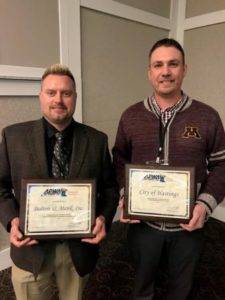 The American Public Works Association (APWA) – Minnesota Chapter recognized the City of Hastings at the annual conference on November 17. The City of Hastings Riverfront Renaissance Improvements project received a Project of the Year Honorable Mention for their work to revitalize and reconnect their downtown to the Mississippi River.
The City of Hastings and Bolton & Menk collaborated to cultivate a collaborative, consensus-based plan focusing on the ideas and values of the overall community. A three-phase Riverfront Renaissance Master Plan was developed, including nine blocks of street and sidewalk reconstruction and construction of Levee Park. The park features an open-air limestone amphitheater and pavilion accommodating a 500-plus audience, art installations, musical playground, Mississippi River Trail enhancements, veterans memorial, pocket parks, and a labyrinth that transforms into a recreational ice staking rink with warming hut. 
Through these combined efforts the city now has a uniquely stunning downtown connected to the Mississippi River that honors their history and thrives as a visitor destination.
Pictured left to right: Brian Hilgardner (Bolton & Menk Project Manager), Nick Egger (City of Hastings Public Works Director)