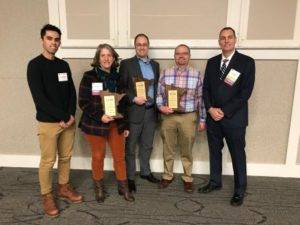 The City Engineers Association of Minnesota (CEAM) recognized the City of St. Louis Park at their awards luncheon on January 29. The Cedar Lake Road Improvements project received a Project of the Year Honorable Mention award for its reconfiguration of the corridor to achieve safer and more efficient travel for motorists, bicyclists, and pedestrians.
The City of St. Louis Park is actively transforming their existing transportation system from a network that primarily serves motorists to one that places an emphasis on multimodal travel. This transformation not only consists of constructing a series of sidewalk, bikeway, and trail expansions, but also involves taking a critical look at all reconstruction projects to see if there are opportunities to better serve the community and be more equitable for the local residents and businesses. From a pedestrian, bicycle, and public transportation perspective, Cedar Lake Road is arguably the most important corridor in the north side of the city, and one of the most important corridors city-wide. It is an essential connection for the city's entire long-term sidewalk, bikeway, and trail master plan, known as Connect the Park.
The 2019 Cedar Lake Road Improvements project is the first stage of a multi-stage transformation of the Cedar Lake Road corridor. It focuses on the easternmost 1.7 miles of Cedar Lake Road between Kentucky Avenue and Quentin Avenue. The City of St. Louis Park hired Bolton & Menk to be their partner in evaluating the corridor's needs and helping the city reimagine the corridor for the next generation of users. The significance of this project was not lost on the project team members—the decisions made on this segment will likely set the stage for the entire corridor.