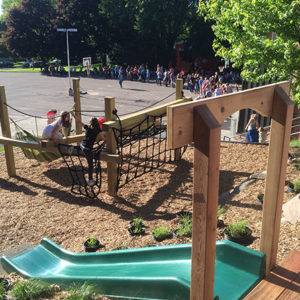 The Nativity Child and Family Center in St. Anthony was struggling to provide an enriching outdoor atmosphere for its children due to aging play equipment and a small segmented site. With a limited budget, the center requested volunteer assistance to reimagine and redesign the playground as a space that offers recreational and educational opportunities for children of all ages. 
The community came together to make these hopes a reality. Over the last year, 200 volunteers assisted with design, construction, and marketing of the playground project. Jonathan Nelsen, Landscape Architect for Bolton & Menk, volunteered his time and services to develop the master plans for two playground spaces and created renderings to help market the project to the church community. The church received $19,000 in monetary contributions for the playground and $14,000 in donated materials and services. The playground was constructed this past spring and a ribbon cutting was held on May 31. 
"Having the opportunity to work with Sue, Joanne, Pastor Dan, and the other Nativity community members on this project was an honor. I was humbled by the graciousness that was shown by everyone throughout the process, and seeing the vision become a reality was such a rewarding experience," said Nelsen. "The children's reactions at the ribbon cutting ceremony definitely made the time spent on the project worth it."
By reimagining the site and redeveloping the existing playground into a natural play area, the playground now provides children of all ages an enriching outdoor play and learning experience. The playground design also meets the requirements to be considered a Nature Explorer Certified Classroom through the Arbor Day Foundation, as well as a Certified Wildlife Habitat through National Wildlife Foundation.