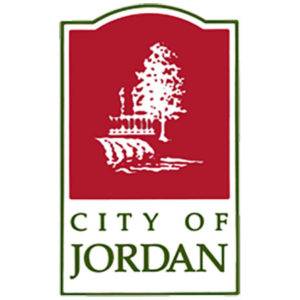 The City of Jordan's Downtown Improvements Project was selected by the American Council of Engineering Companies of Minnesota for an Honor Award at the 2016 Engineering Excellence Awards Banquet on January 29.
Jordan, Minnesota, like many towns of similar age and size, was faced with crumbling utilities beneath its downtown business district. Coupled with the desire to reinvigorate the business climate and fill vacant properties with vibrant commerce, the city saw the opportunity for creative improvements wrapped in the necessity of utility reconstruction.
The city commissioned the 2015 Downtown Jordan Street & Utility Improvement Project as a solution, and tapped Bolton & Menk to provide engineering and landscape architecture services.
Existing utilities were susceptible to ground water infiltration and had suffered two sewer backups. The project involved the replacement of three city blocks of sanitary sewer pipe and two blocks of water main located under two primary corridors in the heart of downtown. In addition to open cut utility excavations, three trenchless utility crossings of a rail line were required. Downtown properties were provided new sanitary sewer and water lines that will serve their needs now and well into the future. Three blocks of streets were newly constructed and four contiguous blocks of pavement were resurfaced. Parking lots on either side of city hall were also reconstructed and the project area was brought into compliance with current ADA standards.
Prior to the design and construction phases of the project, the city formed a Downtown Advisory Committee to review design alternatives, build consensus among stakeholders, and select features that would enhance the downtown. These included trees and plantings, wayfinding signage, informational kiosks and decorative pavement features.
The final result is an up to date sewer and water system, an improved business climate, and a more inviting community gathering place.
Construction began in April 2015 and was substantially completed in June, just eight weeks after it began. All work was completed on budget and in time for Heimatfest, a community celebration held in September each year.