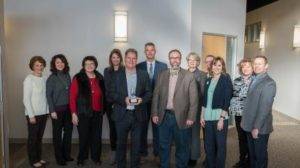 Connect Business Magazine, Radio Mankato, Eide Bailly and Minnesota State University, Mankato presented Bolton & Menk, Inc. with a Strategic Partnership Award in Mankato. The award promotes southern Minnesota partnerships between businesses and organizations with Minnesota State Mankato students and faculty.
The firm was chosen particularly for their work with the civil engineering program at the University. In 2000, Bolton & Menk, with leadership from former President Jon Rippke, was influential in starting a civil engineering program. Rippke was instrumental in identifying a need for a civil engineering program and helping to make the program successful. Bolton & Menk has been hiring students who have graduated from the program since the first class.
"Our partnership with MSU is extremely important, as it not only gives us an opportunity to connect with potential interns and future employees, but also to give back to the community," said Principal Engineer and Mankato Work Group Manager, Dan Sarff. "We are honored to be acknowledged in this way."
Bolton & Menk supports the University not only through collaboration with the civil engineering program, but with sponsorships, scholarships and internships and as adjunct faculty and committee members. There are currently 49 Bolton & Menk employees with degrees from Minnesota State University – Mankato.
Click here to read Connect Business Magazine article.
Click here for KTOE online article. 
Click here for Talk of the Town radio interview with Pete Steiner and Principal Engineer, Dan Sarff.