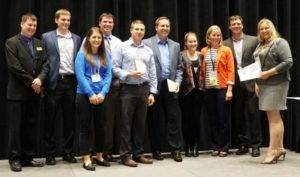 The Minnesota Chapter, American Planning Association awarded Carver County, the City of Chaska, MnDOT, and Bolton & Menk with the Partnerships in Planning Award of Excellence for the Highway 41/County Highway 61 Improvements project. The award was presented at the Minnesota APA Conference on September 27. The Partnerships in Planning category recognizes planning efforts involving partnerships between various organizations.  
The City of Chaska's vision is to revitalize downtown as the hub of community destinations and gathering places that reflect and celebrate its historic character, traditional small town atmosphere, and values. Carver County and MnDOT both had improvement projects planned on Highway 41 and County Highway 61 in downtown Chaska. In order to plan for these upcoming construction projects, the City of Chaska, Carver County, and MnDOT joined together with Bolton & Menk to identify a future downtown transportation vision that could be supported by all agencies. 
The success of this project is rooted in the strong partnerships, flexible design, and a collaborative approach that allowed each agency time to understand and vet potential improvements, to consider the compromises, and test multiple options. The result is a truly unique and supported vision for Highway 41 and County Highway 61 in downtown Chaska.