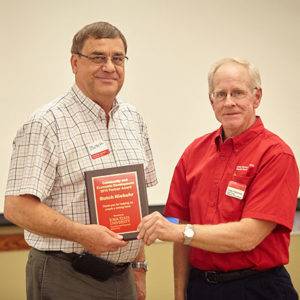 Iowa State University Extension and Outreach in Dallas County held a partner banquet on the evening of Thursday, March 31 to recognize and acknowledge local partners who help carry research-based education from ISU across the county. With their support, ISU Extension continues to stay focused on feeding people, keeping them healthy, helping communities to prosper and thrive, and turning the world over to the next generation better than we found it.
Butch Niebuhr, former City Administrator in Perry, received the Community and Economic Development 2015 Partner of the Year Award. Butch has worked alongside ISU Extension Community and Economic Development specialists for the last 10 years to develop a vision for downtown Perry, reach the Latino population on home efficiency projects and train Perry Planning and Zoning officials. He has also been a key collaborator on Common Thread, a regional group which helps towns and businesses get the most out of nearby bike trails. Butch consistently looked for ways to involve not only ISU Extension but ISU students on a multitude of projects to make the Perry area a better place to live and work.
Butch began working for Bolton & Menk in August, 2015 as a Government Relations Specialist in Iowa.