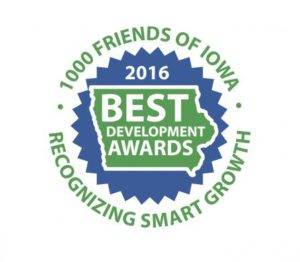 The City of Storm Lake's North Central Stormwater Project was awarded the 2016 Best Development Award in the Stormwater: Civic category by 1000 Friends of Iowa. The award ceremony was held on January 19 at the Iowa State Capitol. 
Five independent jurors from across the state selected nine projects in a variety of categories that implement the efficient use of our resources to develop sustainable communities that provide a high quality of life. 
The North Central Stormwater Project in Storm Lake, IA helped to relieve substantial flooding from approximately 150 acres of residential and school property. The stormwater relief and treatment solution developed by Bolton & Menk, Inc. of Spencer, IA, was cost effective, environmentally sensitive, and adaptive to future flooding. The new stormwater system creates a model for water quality improvements throughout the State.
Founded in 1998, 1000 Friends of Iowa is the only organization in the state focused solely on promoting responsible land use in community, state, and federal development decisions. Its mission is to unite Iowans in efforts to protect farmland and natural areas, revitalize neighborhoods, towns and cities, and improve quality of life for future generations.
Bolton & Menk, Inc., ranked #179 in the Top 500 Engineering Firms by Engineering News Record (ENR), provides a broad range of engineering, surveying, planning, and environmental services to communities and agencies in Iowa, Minnesota, and North Dakota. In serving public sector and private clients of all sizes for more than 65 years, Bolton & Menk has become experts in providing quality professional services.