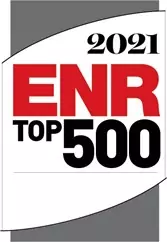 Engineering News-Record's (ENR) annual ranking of the Top 500 Engineering Design Firms has been released, and Bolton & Menk, Inc. climbed 5 spots to #150. This is the first time that Bolton & Menk has been named one of ENR's top 150 design firms.
The firm attributes many reasons for continuing their climb in the Top 500 list. This level of revenue growth is achieved because of highly qualified staff who are committed to consistently finding timely and cost-effective solutions for their client's challenges. This reputation, coupled with expanding expertise and depth of experience, has enabled Bolton & Menk to maintain long-lasting relationships with their clients and expand their market share beyond the Upper Midwest with an established presence now in the Southeast United States.
Bolton & Menk, Inc., ranked in the Top 500 Engineering Firms by Engineering News-Record (ENR), provides services in the areas of civil and municipal engineering and planning, water and wastewater, water resources, transportation planning and engineering, and aviation. The firm also provides landscape architecture, structural engineering, environmental review, land surveying, GIS mapping, protective coatings, and funding assistance services. Our staff of more than 650 professionals and technicians in 24 locations is available to assist clients in meeting the ever-increasing demand for quality public infrastructure services. Having a corporate office in Mankato, the firm also operates offices in Baxter, Burnsville, Chaska, Duluth, Fairmont, Golden Valley, Maplewood, Minneapolis, Ramsey, Rochester, Sleepy Eye, and Willmar, Minnesota; Algona, Ames, Cedar Rapids, Des Moines, Jefferson, and Spencer, Iowa; Fargo, North Dakota; Charlotte and Raleigh, North Carolina; and Myrtle Beach, South Carolina. 
Our dedication to provide the best solutions for our clients started back in 1949 with two hardworking Midwesterners. Learn more about our history here!