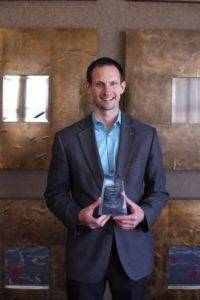 The Willmar Lakes Area Chamber of Commerce honored principal engineer, Jared Voge, with the 2017 Emerging Young Leader Award at their annual meeting on Thursday. Jared started as an intern in 2001 at Bolton & Menk in Sleepy Eye and now works at the Willmar location. As a project manager, Jared manages projects requiring extensive coordination efforts, successfully meets aggressive project schedule requirements, and manages project-related public relations and community involvement efforts.
Jared was recognized for demonstrating outstanding leadership that benefits the community of Willmar and its citizens. He was nominated by Sara Goebel of Marcus Construction, who served on the neXt leadership team with him. He was chair of the committee in 2016. Sara's nomination said Jared has been a strong and thoughtful leader, who is professional and level-headed. He is willing to listen to both sides and never jump to conclusion.
Congratulations to Jared on this award. It is well deserved!