Connie Fortin
Senior Project Manager
Connie is a senior project manager working as a "low salt strategist", joining the Bolton & Menk team in early 2022. Beginning her professional career in 1982 and serving as founder and president for Fortin Consulting Inc. since 1996, her experience speaks for itself. Connie's expertise lies in chloride source reduction strategies, practical problem solving, networking, innovation, leadership, and what she likes to call "simplifying science." Her responsibilities include client engagement, expanding our water resources division through her knowledge of chloride, integrating chloride into Bolton & Menk's repertoire, and keeping work fun for those around her. Connie's fierce passion for her work stems from her intention to make the world a better place for generations to come. When she's not busy working to save the planet, Connie loves being outdoors.
Education
University of Saint Thomas

Gustavus Adolphus College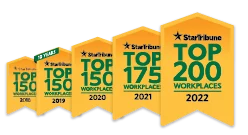 Named one of the very best workplaces in the State of Minnesota! We're proud to rank in the Top 50 on the list, and even prouder that we were voted in by our own employees.