Dave Rey, PE
Principal Engineer
Dave is a principal work group leader of Golden Valley operations. He began his career in 1994 and specializes in the development of public, private, and government facilities. Dave frequently coordinates his design efforts with various agencies including city, county, watershed districts, soil and water conservation districts, and state agencies. He has extensive experience with large-scale site development, including healthcare facilities, emergency services facilities, school campuses, and community centers. His site design expertise includes grading and drainage plans, low impact design, traffic flow and routing, infrastructure planning and design, stormwater management, and pedestrian circulation. Dave puts an emphasis on client relationships and is always looking out for their best interests. Outside of work, you can find Dave hunting, fishing, sailing, canoeing—really anything and everything outdoors!
Education
University of Wisconsin – Madison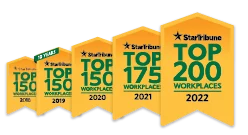 Named one of the very best workplaces in the State of Minnesota! We're proud to rank in the Top 50 on the list, and even prouder that we were voted in by our own employees.