Dave Rey, PE
Principal Engineer
Dave began his engineering career in 1994. Prior to joining Bolton & Menk in 2020 as a principal engineer, Dave served as the co-owner of Anderson-Johnson Associates, now a Bolton & Menk company. Dave is involved with large-scale site development, grading, and stormwater management projects, including multiple school and government projects. Dave puts an emphasis on client relationships and is always looking out for their best interests. Outside of work, you can find Dave hunting, fishing, sailing, canoeing—really anything and everything outdoors!
Education
University of Wisconsin – Madison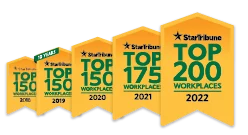 Named one of the very best workplaces in the State of Minnesota! We're proud to rank in the Top 50 on the list, and even prouder that we were voted in by our own employees.