Jacob Bongard, PE, PTOE
Principal Transportation Engineer
As a principal transportation engineer who began his career in 2009, Jacob works on a variety of projects ranging from high-level planning studies to in-depth final design projects. He uses the knowledge and experience obtained through his education and professional practice to identify project needs, work toward a solution, and communicate results to those in and outside the field of engineering. Jacob loves to solve challenging problems and enjoys seeing the impact our work can have on improving the way people safely and efficiently get from one place to another. Outside of work, Jake looks for ways to get outside including ice fishing in the winter, annual Boundary Waters trips in the spring, and slow pitch softball and golf in the summer and fall.
Education
University of North Dakota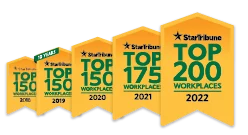 Named one of the very best workplaces in the State of Minnesota! We're proud to rank in the Top 50 on the list, and even prouder that we were voted in by our own employees.