Joe Duncan II, PE
Senior Principal Engineer
Joe began his career in 1992 and is the principal work group leader of Mankato operations. He serves a variety of clients and is experienced in the planning, design, and administration of civil and municipal engineering projects. Joe enjoys assisting his clients to achieve their goals and vision. "Bolton & Menk has been a tremendous company to work for, offering significant opportunities and allowing me to stretch the boundaries of my own capabilities as a person, engineer, and manager." When not managing projects, Joe is managing the family's sports and activity calendar of his three children. Skiing, snowmobiling, and camping top the list during family free time.
Education
South Dakota State University
Awards
Minnesota Society of Professional Engineers – Young Engineer of the Year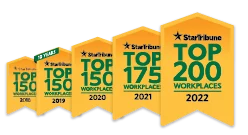 Named one of the very best workplaces in the State of Minnesota! We're proud to rank in the Top 50 on the list, and even prouder that we were voted in by our own employees.