Joe Haefner, PLS
Principal Survey Manager
Joe is a principal survey manager of and leader of energy services for Bolton & Menk. He began surveying in 1997 and is responsible for the coordination and supervision of survey work for engineering projects in the southern Minnesota and northern Iowa service areas. Joe enjoys working on large-scale surveying projects that cover many sections of land. He has experience performing, preparing, and supervising land surveys and parcel and right-of-way determinations involving government land corners, corner certificates, section breakdowns, highway right-of-way, and railroad properties. He oversees all aspects of land surveying activities from the establishment of initial project control through project delivery and construction staking. Joe enjoys spending time with his wife and their family, attending the many sporting events their kids are involved with, and relaxing on the lake in the summer.
Education
South Central College

Saint Cloud State University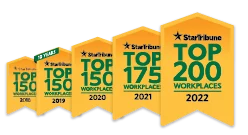 Named one of the very best workplaces in the State of Minnesota! We're proud to rank in the Top 50 on the list, and even prouder that we were voted in by our own employees.