Len Fields
Associate Director of Information Technology
Director of information technology at Bolton & Menk, Len began his professional career in 1984 after graduating from St. Cloud State University with his bachelor's in computer science and Business Management. His passion for his work is evident through his devotion for problem solving and raising standards of excellence within the firm. Len is an expert in evaluating and prioritizing corporate technology needs, technology infrastructure, strategic planning, data center support, and facilitating client/vendor relationships. His experience includes several years of creating and aiding in the development of technological strategies, hardware and software testing strategies, and department management. When he's off the clock, Len enjoys spending time cruising back roads on his motorcycle and coaching youth sports.
Education
Saint Cloud State University
Awards
Bolton & Menk, Inc. – Above & Beyond Award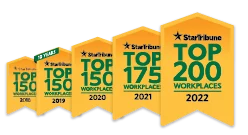 Named one of the very best workplaces in the State of Minnesota! We're proud to rank in the Top 50 on the list, and even prouder that we were voted in by our own employees.