Mike Bittner, PE, PMP, PTOE
Principal Transportation Engineer
As business development principal-in-charge of North Dakota operations, Mike is passionate about developing strategies and action plans to support the needs of the region. He started his career in 2012 and is the rare hybrid transportation professional that can carry a project from the earliest phases of planning to the most technical phases of construction. His experience, like his list of professional licensures, spans the full gamut of transportation planning, engineering, and stakeholder engagement. Mike is passionate about developing tailored solutions to solve the most complex problems that communities face. He says that transportation planning and engineering is a unique blend of technical traffic modeling and intimate community engagement. "Some days I feel like a scientist, others an artist." He's not all work, no play, though. Outside of the office, Mike spends time playing, wrestling, and laughing with his children. He and his wife are travel enthusiasts with a love for games and spending time with friends.
Education
University of North Dakota

North Dakota State University
Awards
ENR Mountain Region – Young Professional

Midwestern District Institute of Transportation Engineers (ITE) – Rising Star Award

North Central Institute of Transportation Engineers (ITE) – Young Transportation Professional of the Year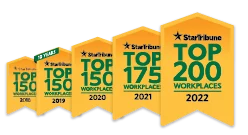 Named one of the very best workplaces in the State of Minnesota! We're proud to rank in the Top 50 on the list, and even prouder that we were voted in by our own employees.