A downtown city square is the heart of a community. It is the place where people gather, spend time, and shop local. For Indianola, Iowa, their downtown city square is taking on a whole new light with the demolition of the Warren County Justice Center and replacement with a new justice center facility. The change is an opportunity to take proactive steps toward reimagining the city square through unifying and beautiful streetscape enhancements that the community can be proud of well into the future.
"Once it became apparent that Warren County would be investing in a new justice center in the heart of our Downtown Square, the City of Indianola wanted to explore what changes we could make to the overall appearance and function of the Downtown Square. Through an engaged public process, the city worked with Bolton & Menk to develop a City Square Master Plan that creates streetscape enhancements that can be implemented alongside the Warren County justice center project," said Charlie Dissell, director of community & economic development at the City of Indianola.
After a series of meetings held by a steering committee made up of local business leaders, residents, and other interested parties, a public open house was held to gather opinions on the suggested streetscape designs. Common concerns were addressed including traffic direction, parking availability, wayfinding signage, and pedestrian and bicycle safety. Many businesses desired wider sidewalks for outdoor seating or sales and demonstration opportunities, and citizens desired bike lanes, crosswalks, and trail connectors. The addition of these amenities could potentially limit parking availability along the square, which was a dealbreaker for many businesses in the area. However, after making use of surrounding parking lots within a one-minute walk, the proposed parking stall loss was very minimal – at only 30 stalls – creating consensus among all stakeholders.
In the end, the preferred design of the streetscape offered solutions to most citizen concerns and needs.
Two-way traffic instead of the current one-way traffic.
Parallel parking on the business side of the square to allow for wider sidewalks and angled parking on the inside of the square.
Bump-outs with colored crosswalks for pedestrian safety.
Signage and wayfinding locations to direct from around town to the downtown square.
Raised planters, outdoor furniture, and fixtures.
The square of Indianola is the identity of the community. Because this project had such an integrated approach, community stakeholders gave input to suggest and decide on various styles of benches, pavement, and planters to give the area a more unique and beautiful feel.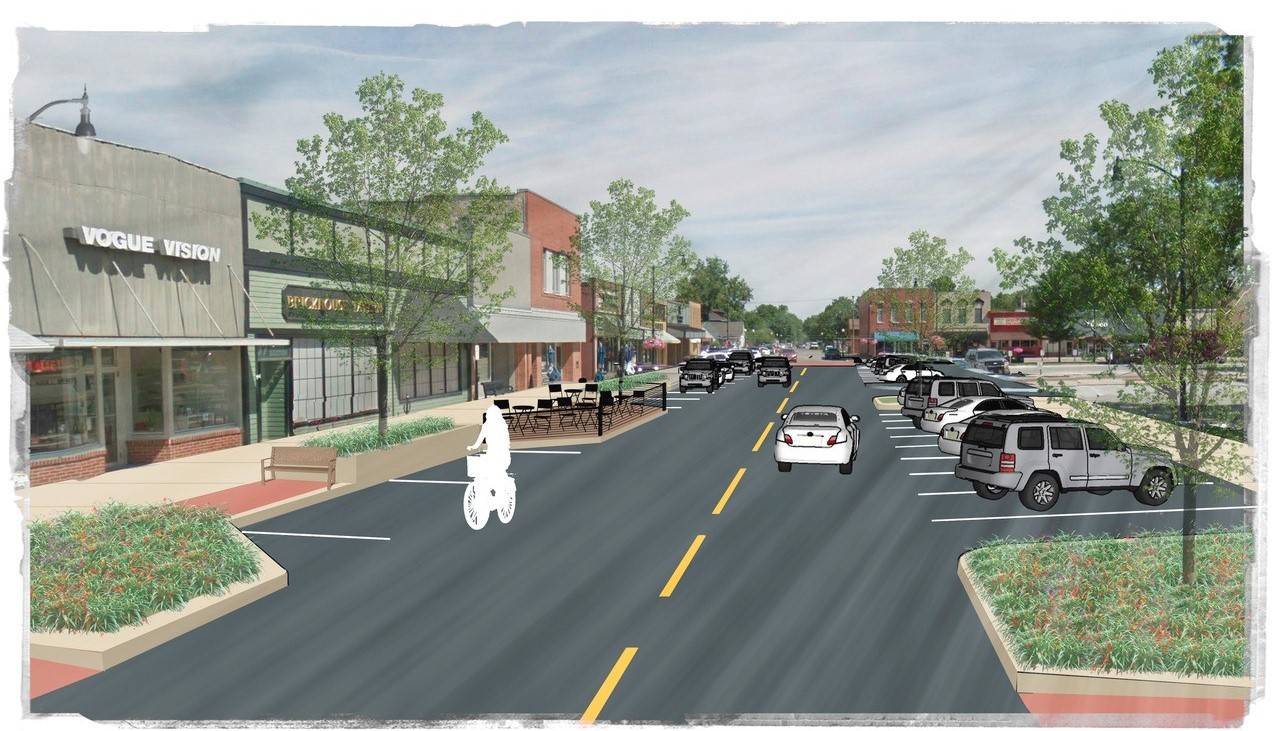 North Howard Street is designed so that it can be closed for special events and the justice center can be used as a stage area for local concerts and gatherings. Another goal of this project was to provide opportunities for businesses to accommodate consumers outside their shops as well as inside. This opens the door for businesses that operate outside the typical daytime hours to come in and serve the community in a more inviting space, creating a vibrant and walkable downtown area.
"It's important for a community to be not only safe and sustainable, but also beautiful. That investment by the community to enhance an identifiable space and the long-term economic benefits of doing a project like this are very important," said Rose Schroder, senior urban planner at Bolton & Menk.
The award-winning downtown streetscape design based on the input of various voices throughout the community, provides an opportunity to create a safe, sustainable, and beautiful streetscape Indianola residents and visitors can enjoy for years to come.