The COVID-19 pandemic caused many projects to shift from in-person to strictly digital communication methods. On the Rice Street Visioning project, our team realized the value of keeping in-person engagement active with digital methods, ensuring equitable project communication during COVID.
Learn more about how our project communication team uses both digital and in-person strategies here!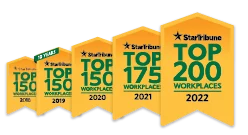 Named one of the very best workplaces in the State of Minnesota! We're proud to rank in the Top 50 on the list, and even prouder that we were voted in by our own employees.