Focus groups, pop ups, and other catchy communication tools have become the standard for inclusive engagement, but what happens when a global pandemic keeps everyone at home? The challenges of COVID-19 are reaching far and wide, and there isn't a corner of the world that hasn't been affected. Public engagement is an essential part of project success, and the importance of all voices being heard is unchanging no matter the circumstances. But how do you drive a critical infrastructure project forward through public engagement from the safety of their homes?
In the case of the Reimagine 17th Street project in Moorhead, MN the key to a successful COVID-19 transition did not start when social distancing guidance was issued —it started at project kickoff.
As with any corridor study, we examine every aspect of the area surrounding a roadway. Traffic, safety, environmental, and most importantly, the human aspect of the corridor is considered in this process. It is critical that community members who will be affected by the corridor are heard, and their needs are met.
From the beginning of the Reimagine 17th Street project, intentional, pointed community engagement was planned to create a publicly accepted design and overall project. The first step in this project, and any engagement process, was research – finding out how the community lives, works, and plays. Through data and speaking with community leaders, you can learn the story of who Moorhead is, what avenues of communication are already in use, what's going to be the most effective way of reaching them, and what populations traditionally have not had a voice.
COVID-19 hit when the Reimagine 17th Street project was just kicking off. With in-person avenues no longer available, the team adjusted its approach as if it were another changed condition in the project. The project team created a highly informative, easy-to-use website with project goals and visions, improvement options, and a space to provide comments. The site also allows users to subscribe for project updates if they don't have the time to keep up with the website, updates will be delivered to their email or text messages. Additionally, the site provides an informative YouTube video to detail the study findings and visions for what the 17th street corridor can be. As not everyone is comfortable with online tools, a pre-stamped postcard was mailed for a more traditional, socially distant engagement effort.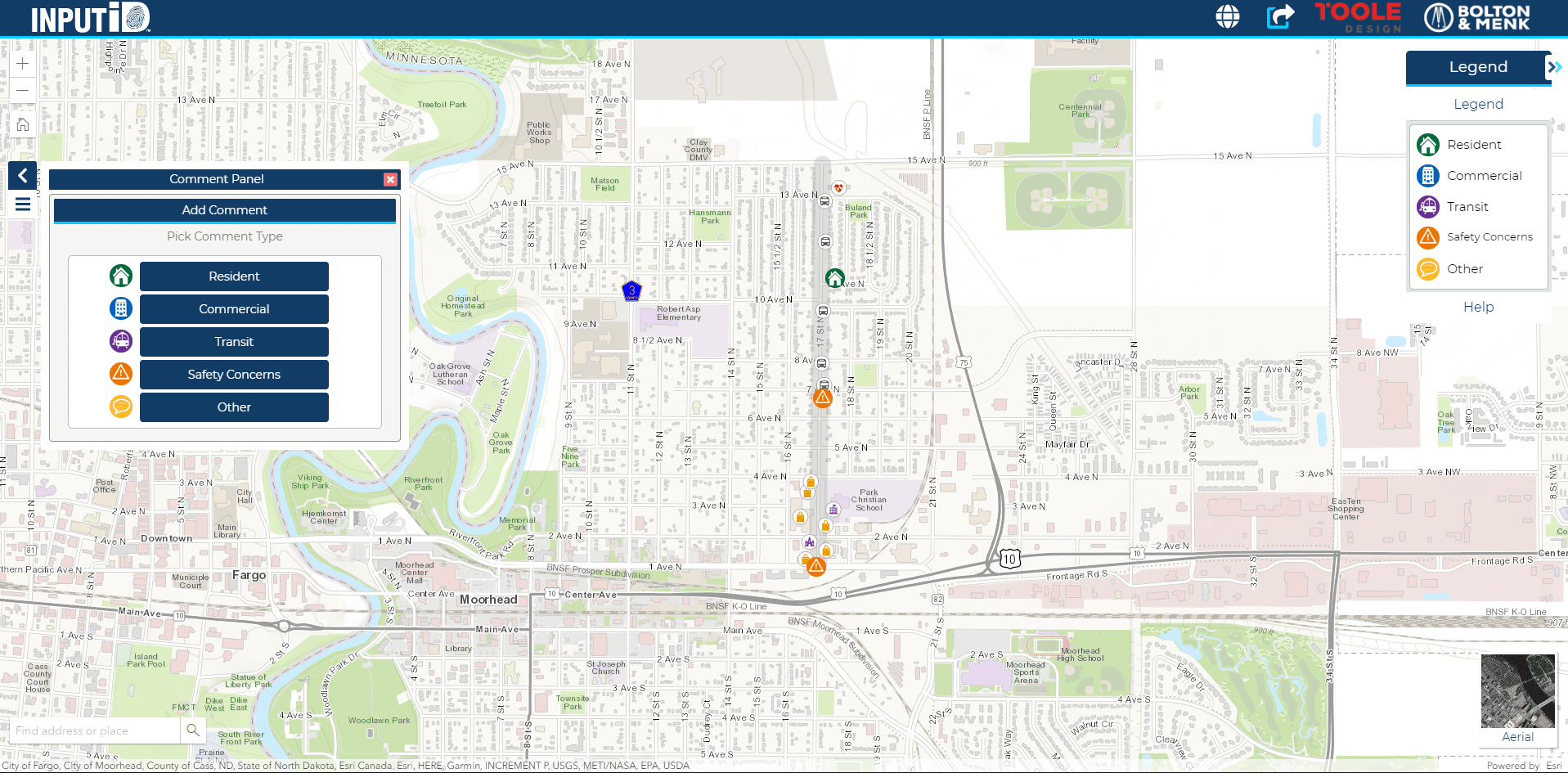 Online Comment Mapping Tool
Over time, as themes start to develop, you learn what the community thinks of the project and what more they hope to see. This helps us, as the project team, recognize why it's important to them, or why it is not. This understanding opens the door to either incorporate that idea into your project, or to say this isn't technically feasible, which then gives the opportunity to educate, so that even when they don't agree they can at least understand why. Reacting, adapting, and transparently addressing points of conflict eases the uncertainty of time consuming, expensive projects. The improvements and updates being made in the community are going to be with residents for 20+ years so it's essential to listen to them, as the community experts, so the project team can get it right.
The benefits of focused community engagement go far beyond getting public approval for a project or a smooth construction process. Inclusive engagement will begin the larger, often laborsome task of building trust between the community and the agency. Trust is built by learning what the community values, how they communicate, and where they feel the most comfortable sharing and receiving information. Establishing these baseline values and consistently providing transparent communication to the public will build trust, which often gives agencies the benefit of the doubt when projects hit snags—even snags as big as COVID-19!
Trust is never a final destination; it's a fluid process that requires agencies to be flexible as the community and its circumstances change. Recognizing this fluidity, project teams are ready to adapt their approaches, even under circumstances as life changing as a global pandemic.
To learn more about this project and to participate in the public engagement efforts visit their online engagement hub.
By Jim Mertz, GISP
As published in Prairie Business Magazine