Clients often ask us if UAV technology is feasible for their communities on a limited budget–absolutely!
Unmanned Aerial Vehicles can be used for more than just aerial photography. High resolution basemap imagery, point clouds, elevation data, and 3D models can be generated from a single mission, providing multiple data types that can be used to meet your goals for less. Here is how UAVs can serve your community –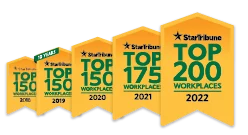 Named one of the very best workplaces in the State of Minnesota! We're proud to rank in the Top 50 on the list, and even prouder that we were voted in by our own employees.