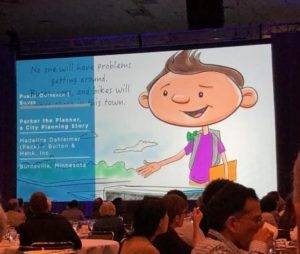 The American Planning Association recognized Bolton & Menk's Parker the Planner book with the Silver level Public Outreach award at the National Planning Awards Luncheon in San Francisco on April 15. The award recognizes the firm's book for educating children about the planning profession in a fun, creative way.
As a continuation of Bolton & Menk's children's books series on city planning, Parker Perez doesn't have any parks, trails, rivers, shopping, or sidewalks in his city, so he decides to build his own. The story, which was drafted and written by Bolton & Menk's technical staff tells the story of a city planner in an easy to read and understand way for children. The book describes the process city planners go through in order to engage communities, implement environmental benefits, and create different land uses. The book has since been used as a tool for community outreach in schools and at community events.
The American Planning American awards recognize outstanding community plans, planning programs and initiatives, public education efforts, and individuals for their leadership on planning issues for more than 50 years.
See the full story here: https://www.planning.org/awards/2019/achievement/
Check out the rest of Bolton & Menk's children's books series here: https://www.bolton-menk.com/library