Phil Martin, PE
Principal Engineer
Phil routinely acts on behalf of cities as a liaison with the public, residents, and other interested parties. He says, "I enjoy the relationships that are developed and the satisfaction I get from helping a client solve their issues." Phil began his career in 1992, and as the principal work group leader of Baxter operations he leads his staff and manages the planning and design of various civil engineering projects. He serves as the city engineer for several north central Minnesota communities and has been involved with state and federal aid projects, transportation corridor studies, trail studies, and capital improvement planning. When Phil isn't busy with the many activities his children are involved in, he enjoys a variety of outdoor activities himself.
Education
North Dakota State University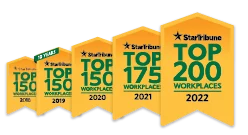 Named one of the very best workplaces in the State of Minnesota! We're proud to rank in the Top 50 on the list, and even prouder that we were voted in by our own employees.