Physical spaces you surround yourself with can directly impact your mental state, either positively or negatively, depending on the environment. A positive change in environment can ultimately lift your mood and set the tone for the rest of your day. Light, cleanliness, and fresh air can improve your state of being, impacting both your mind and body. In Buddhism, Zen gardens are not only used as a meditation space to reflect on Buddhist teachings, but these calming gardens are also associated with stress reduction and peace.
What are Healing Gardens?
Healing gardens, green spaces that can be utilized by the public to improve health conditions, are designed to benefit a diverse population of people with different needs. These spaces are meant to be used passively to promote wellness by connecting people with natural spaces.
Essential Aspects and Benefits of Healing Gardens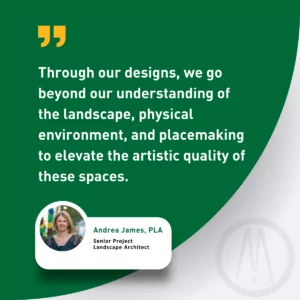 Many studies show that after stressful events, being in the natural environment produces a calming effect. Within a few minutes after viewing natural environmental scenes, brain activity and the production of stress hormones all decrease, and mood improves. This allows us to recuperate and recover our personal energy. Nature provides a space where we can connect spiritually both with ourselves and with our surrounding outside environment. Nature prompts individuals to reflect on the ever-changing understanding of our own existence and what may lie beyond.
Other crucial aspects of these gardens include sculptures, pathways, local art, and planting design to engage all four seasons and provide a variety of seating opportunities for the public to enjoy.
Healing gardens are designed to be multilayered experiential spaces. Some healing garden projects, such as the Atrium Health University Vegetable Garden and the Atrium Health Concord Urban Vegetable Garden, provide additional space for employees and the community to enjoy. People who use these spaces are engaged to learn more about planting produce, pollinators, bees, and taking care of urban vegetable gardens.
The Atrium Health Pineville Healing Garden Project
The Healing Garden in Atrium Pineville, another prominent space, embraces the natural environment while creating an area for passive reflection.
During Atrium Health's Pineville Phase II Bed Tower and parking deck construction, 12,000 square feet of open space between the parking deck and the existing Maternity Wing was identified as one of the last remaining green spaces on campus that was available for staff, patients, and visitors to enjoy. This project started as a connection from the Bed Tower entry to surface parking on the campus, but soon was re-visioned with the new purpose of creating a healing garden for the medical campus. 
A donation page supporting Atrium Health's vision was put into place to actively seek funds to support construction of the space in tandem with the Bed Tower and parking deck construction. This effort was fully embraced and installed within the timeline of the Bed Tower. 
"We were able to guide the design direction, location, and early vision for the landscape. As we navigated through the design process together with the client, we wanted to make sure their story was told through experiential art," said Andrea James, Design Landscape Architect and Project Manager on the Atrium Health Pineville project.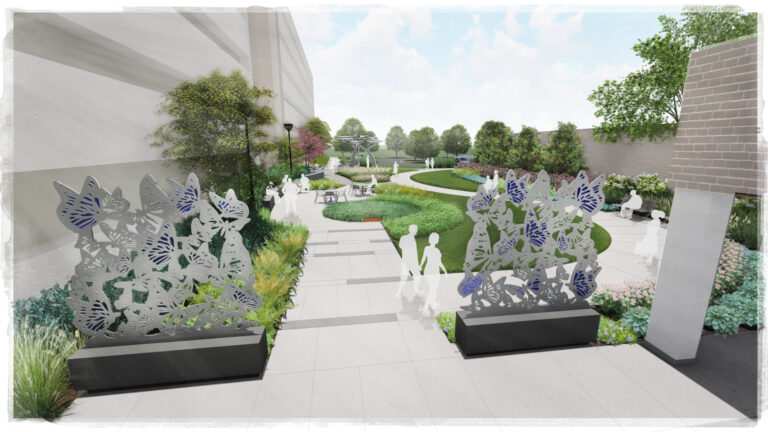 Design, Plants, and Beauty: Improving Overall Wellness
As one enters the garden from the hospital, elevated butterfly sculptures flank both sides, acting as a gateway into a series of smaller spaces with a final focal terminus of the Lotus. These sculptures were intentionally placed to reflect color to the environment from their wings. As the sun moves through the space, the colorful reflection changes during the day, where cutouts of the butterfly's wings are dappled with shades of green, with plant material peeking through the background.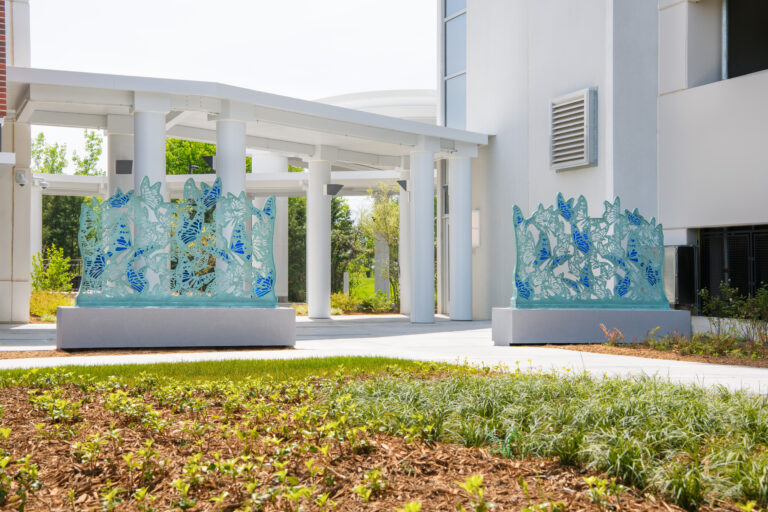 Justin Bambach, Landscape Designer at Bolton & Menk, worked diligently on drafting and documentation, resulting in a dynamic garden enclosure that compliments the landscape. His thoughtfulness and collaboration throughout the process were integral to the final design implementation.
A variety of shade tolerant plants with alternating textures provide interest along the paths and private seating areas. Hosta and Helleborus plants are paired with Autumn ferns along the ground plane, while their backdrop is a blend of Hydrangea, Fothergilla, and Winterberry. Shade plant palettes are the most challenging to craft, but layering in a variety of textures and colors to create seasonal interest is important. Research finds that people who surround themselves with indoor and outdoor plant life experience emotional and mental health benefits that have a positive impact on their overall wellness.
Along the edges of the main path through the space there is seating tucked between Hostas and Winterberry, creating a green backdrop against the existing maternity building. A single focal Trident Maple with exfoliating bark texture and brilliant fall color casts shade on the seating area. The path funnels visitors to a small central seating area where the Lotus rests. A simple groundcover around the sculpture directs your attention to this artful moment. Visitors can sit under the Lotus with its expansive leaves spanning out overhead, while several café tables and chairs sit nearby for alternate relaxation and viewing opportunities.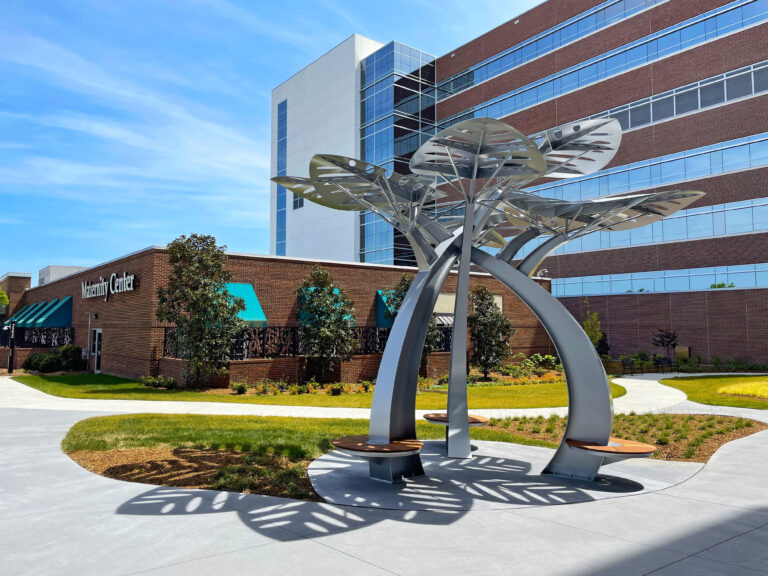 Two artists were commissioned by Atrium Health through Skyline Art Services. Skyline worked with the client and artists on art selections for the interior of the new bed tower and the exterior sculptures as well. Zachary Oxman created a Lotus Sculpture for his garden art installation, and Matthew Placzek of Placzek Studios designed and built the butterfly gateway at the garden space entry.
Inspiration for the Healing Garden Design: Symbolism Behind the Art
During some of the most painful times of grief, we often look to nature and natural symbols for guidance and comfort. The artistic symbols that rest within the garden pull from vision and symbolism both historically and culturally to represent a meaningful place of confluence that resides within all of us.
The Lotus Sculpture
Purity and enlightenment reside within the lotus flower blossom. It's born in water, grown in water, and rises above the mud to reveal a pure enlightened flower. Mud that nourishes the roots of the lotus represents our messy lives and a single flower rising above the mud to bloom requires great faith and strength to pull past the murky waters of grief and disruption.
The Butterfly Sculpture
In many cultures, butterflies represent the human soul and more fully symbolize endurance, hope, and freedom with their beautiful array of colors and graceful flight. A single butterfly may cross our path, guiding us during some of those darkest hours and bringing a sense of hope and peace back into view.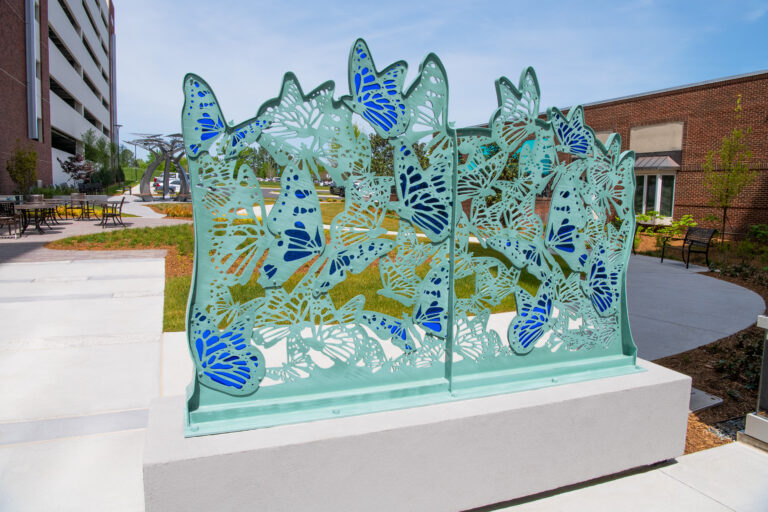 "One moment that stood out over the course of this project was when the client was giving us their perspective on how they decided on the direction of art in the space—which was deeply touching and emotional," said Andrea.
During a memorable overnight experience at Atrium Health, a resident noticed a yellow butterfly, acting as their new-found guardian, after a difficult night: "[The yellow butterfly] was my reminder that I was not alone, that through the night we had not been alone, that during a tragic life-changing night for this family they had not been alone. When the world buzzes by us, unable to see us during our darkest times, there is a presence that sustains us, guides us, and brings hope into view. A yellow butterfly became that symbol of presence and hope for me after that experience."
What Comes Next: Healing After Hospital Stays
Hospital stays are often emotional and challenging times for both patients and family members. The tucked-away garden is a secret reflective space for visitors to experience in their own way. People who use this space walk away with a personal connection to it—their experience can be shared with family and friends in the community. This secret place acts as a compass for people to find a way to the next steps of their emotional journey forward.
This healing garden provides a place of respite for visitors, staff, and patients to the hospital daily, and will last for many years to come. Andrea explains, "Those moments where I'm able to impact others with both the physical delivery and symbolic delivery of design and art that work in harmony are priceless. Those moments are often fleeting like the butterfly in the day to day of what we do. The impact of those moments we can create and enhance for those around us to experience is strong."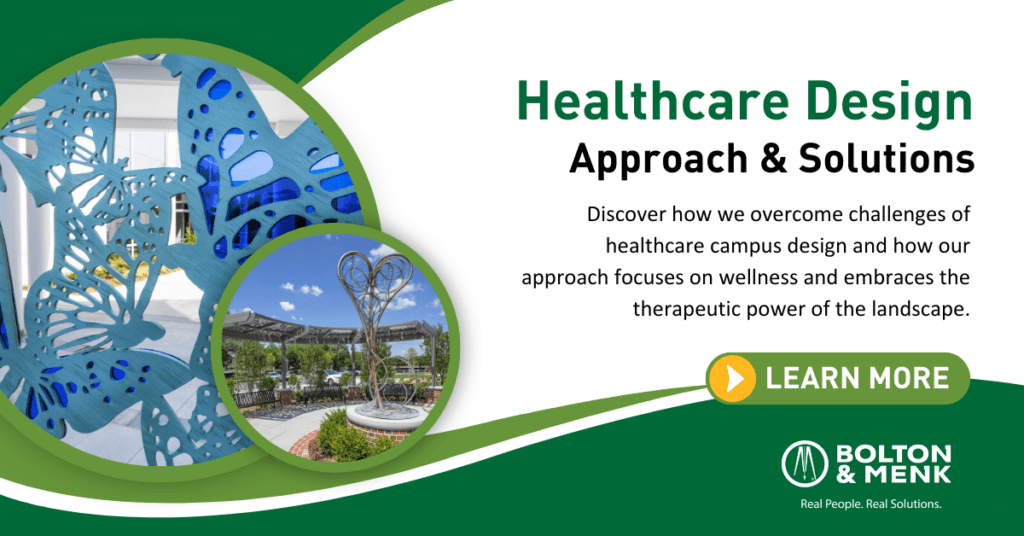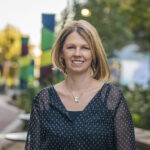 Andrea James began her career in landscape architecture in 2001 in the Baltimore area and moved to the Charlotte region in 2007. As a senior project landscape architect, she works on a wide variety of project types, including residential amenity areas, commercial landscapes, streetscapes, urban parks, mixed use developments, and master planning. She has a passion for collaboration in design and development for a variety of project types including transit-oriented design, mixed-use development, urban infill, park planning, and amenity design.