Summer is quickly approaching, and lots of people are spending time at the ball field – to watch or to play. Our team of landscape architects, planners, and designers are here to make sure all sports facilities are safe, sustainable, and functional. Learn from principal landscape architect Jay Pomeroy as he talks about the importance of multipurpose, sustainable facilities and how hybrid learning affects site design in the next What's the Fact.
Want to learn more about synthetic turf? Check out an article found in ASCE-MN's newsletter, here!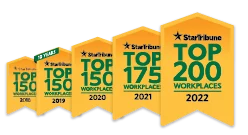 Named one of the very best workplaces in the State of Minnesota! We're proud to rank in the Top 50 on the list, and even prouder that we were voted in by our own employees.