Everyone relies on traffic safety – whether using public transportation, driving, or walking. Bolton & Menk's traffic and transportation engineers look at projects from all angles to ensure everyone gets to their destinations safely. Transportation Design Engineer Chloe Weber, EIT discusses how we bring everyone to the table to provide right-sized solutions in our final episode of What's the Fact!
One of the many ways we help to improve traffic safety is by using a road diet. Learn more about the steps taken to create safer communities, here!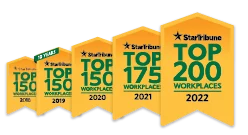 Named one of the very best workplaces in the State of Minnesota! We're proud to rank in the Top 50 on the list, and even prouder that we were voted in by our own employees.