John Shain, GISP
Principal GIS Project Manager
John began his career with Bolton & Menk in 1999 after graduating with a degree in professional geography. His passion for local government and computer science morphed into an interest and expertise in mapping and displaying data. Bolton & Menk was willing to take a chance with John and embraced his ideas for GIS that were not yet widely practiced. Now Bolton & Menk is a premier GIS provider for municipalities. As the principal work group leader of GIS services, John has managed a variety of GIS projects that include municipal implementations of GIS systems, public utility and infrastructure mapping, stormwater management, and web application development. John is a true Minnesotan, with hockey running through his blood. He not only enjoys watching and playing hockey but is also a youth hockey coach for his children.
Education
Minnesota State University, Mankato
Awards
Bolton & Menk, Inc. – Above & Beyond Award

Minnesota State University, Mankato – Distinguished Alumnus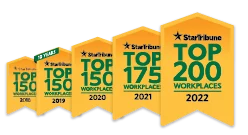 Named one of the very best workplaces in the State of Minnesota! We're proud to rank in the Top 50 on the list, and even prouder that we were voted in by our own employees.